The GSP 350 is the latest gaming headset from Sennheiser, which promises superior audio for spatial awareness while competing, combined with comfort and Dolby 7.1 Surround Sound.
The closed back headphones deliver on comfort, with a faux leather lining on top of memory foam. Sometimes, after listening to something I forget to take them off, that's how comfortable they are. My ears never feel crushed or hot, which is the usual issue with headsets. However, the design means sound does leak in from outside, but not enough to distract you. If you want full sensory isolation, you may have to turn the volume up a bit, but I found it offers the perfect balance, so that I can still hear the real world.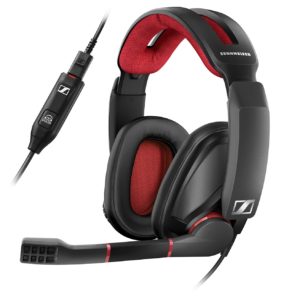 The sound is pretty impressive. I tested it for gaming, music, films and podcasting. Sennheiser delivers Dolby 7.1 Surround Sound via its new Surround Dongle, which connects to the headset via a cable. It can be turned on or off and has a variety of settings for music, e-sports and a neutral setting.
Do you hear that? Amazon has a great deal on Sennheiser GSP 350 Gaming Headsets!
When playing games, I kept turning round to see if the sound was coming from the room I was sitting in. The 7.1 surround sound means you can pinpoint the direction of sound and  there is a clarity between sound effects, dialogue and music, which makes for a cinematic experience.  There is also a handy volume button on the side of the headset means you don't have to fiddle with your controller while gaming to make adjustments.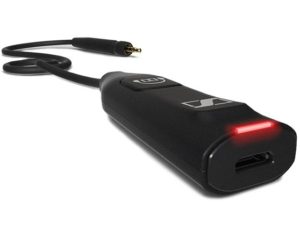 The microphone is an arm on the side of the headset. It's pretty solid, so no fear of it breaking off and you can push it back out of the way, when not in use. You can't remove the mic, which isn't a problem for me, but might be if you want to use your headphones on the move.
I used the mic for podcasting and you can hear the results on the most recent episodes of Argue the Toss. Handily,  background noise and things like breathing are cancelled out, so it's perfect for simple recording or playing with team mates. Another useful function is the automatic mute, when the mic is put in the raised position.  This mic is better than most of the cheaper stand alone versions you can get. My voice is clear and there's no noticeable popping, which I've noticed with my previous mics. It's more than suitable for simple podcasting and gaming.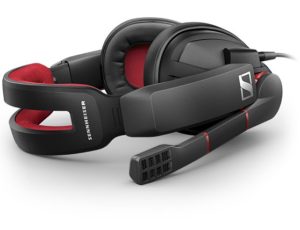 When it comes to design, the GSP 350 has a low-key, mature look. Charcoal grey and black with minimal red detailing means it's not making any style statements, but it looks slick without being over designed. It feels light and solid and easy to adjust, even if you've got big hair like me.
The cable is really long, which is great if you sit far away from your machine. However, sitting at my desktop, I'm always getting the cable caught under the wheels of my chair. It would have been useful to have some sort of tether to take up the slack. That way I wouldn't be afraid of stepping on the Dolby  device, which sits halfway along the wire.
You can use the GSP 350 on game consoles, as well as PC, but you need to buy a separate adapter cable and the surround sound dongle won't work.
The Sennheiser GSP 350 is a quality gaming headset. At £129.99 it's not the most expensive 7.1 set, but  it's quite an investment. However, I don't think you'll be disappointed. If you want comfort and quality sound for long hours of gaming, recording or just watching a film, then you can't go wrong with this set.