Many games inspire people to make a similar type of game, just with different characters, backgrounds and landscapes. Flying Horse by Tycero AB has its similarities to Flappy Bird.
Editor's Note: Since the review was published, we received a note from the developer about new horses in the game. One can be unlocked by sharing your score on Facebook, another by getting a really good score on impossible, and a few other means. There is also the possibility to remove ads in the game and as a bonus, unlock two more horses when you do that.
This game is a 2D side scroller, available for free, where the horse is flying above mountain scenery. The background colors are bright and the graphics have a crisp polished two-dimensional drawing style. The horse is white with wings, not much depth to the horse.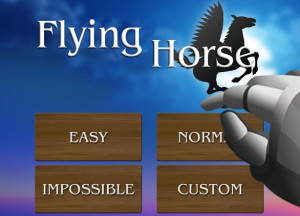 The main objective of this game is to tap the flying horse and avoid the obstacles. To get points the horse has to pass between the obstacles, each one resulting in one point. The obstacles consist of a floating mountaintop and a pillar.
The difference with Flying Horse is the player is able to choose the difficulty setting of the game. In easy mode, the obstacles are further a part from each other, making it easier to fly the horse between the obstacles. In medium mode, the gaps of the obstacles are closer together making it more difficult to fly through. In impossible mode, the horse seems a little slower than the other modes, there is also a custom mode which the player is able to choose the gap size of the obstacles, speed of the horse when tapping and flap power which is how high the horse gets when it is tapped.
Having a difficulty setting in a tap game like Flying Horse makes the gameplay more interesting. For players who have a difficult time, easy or custom modes are great to practice and have fun with. As for players who believe they have mad skills, medium and impossible modes are just right to test their abilities.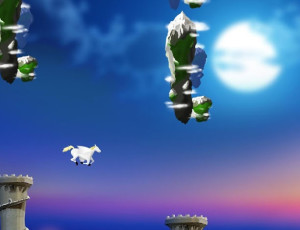 The controls for Flying Horse are simple. Tap the horse to make it fly. The player has to make sure the horse does not go too high or too low or else the horse will hit an obstacle and game over.
One thing that would make this game more entertaining would be if the player had a choice of different kinds of flying horses. It would be nice to see a unicorn or a futuristic horse with plasma wings. Even a purchase pack for more horses would be nice.
Just because a game is similar to another game doesn't mean it can't be fun. Thanks to the difficulty setting, Flying Horse is more fun and playable than most of its competition, even the birds.
Flying Horse earns 4.5 GiN Gems.