With the success of Flappy Bird there have been a lot of games that are just like or similar to Flappy Bird. From a game called Splashy Fish to Flappy Bee, even the band, Fall Out Boy, has their own clone.
Nothing says flappy like breakfast food though, and in Flappy Jack, you're playing as a pancake and trying to pass through the gaps. Does the pancake look like a bird? Kind of. Can pancakes fly? In this game they do.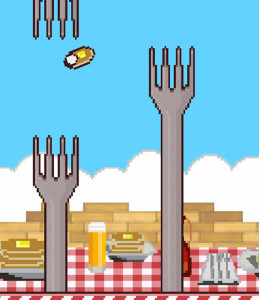 Flappy Jack has the same controls, with just a tap on the pancake to make it fly. Navigate the pancake through gaps that are made by the obstacles. Warning: this is more difficult than just making actual pancakes. Doing this earns a point for every obstacle that is passed through. The graphics for Flappy Jack are 2D and 8-bit.
Why are similar games to Flappy Bird so popular? Because they have simple controls and graphics that anyone can play it. There is technically no mission to accomplish except getting a high score. Having a game that basic makes for a fun time passer. 
With simple controls and simple graphics, you might think Flappy Jack would be easy, but timing is everything in this game, which is what makes it fun and challenging. It can also be a little frustrating when you want to beat your own high score. Timing your tapping skills to get through obstacles is increasingly difficult as the game progresses. Also you don't get any actual pancakes with the game.
Flappy Jack connects to the iTunes Game Center. Unfortunately, the only thing to view is the leaderboard to see who's on top. It would be nice to gain awards in this game for 10 points and 100 points, etc., to get some in-game achievements or trophies.
Flappy Jack is great for passing time and trying to get a high score, which will keep players engaged. It's potentially bad for your waistline if you find flying pancakes make you hungry. Flappy Jack for the iOS gets a 4 out of 5 GiN Gems.