The Dying Light: The Following – Enhanced Edition game is a bit of an odd bird. It's a DLC to be sure, and adds a whole new area where the gameplay is decidedly different from the core game. It also adds a surprisingly robust vehicle mechanic which is the only efficient (and slightly safer) way to traverse this new area. But Dying Light: The Following – Enhanced Edition also includes the entire core game, including several improvements to graphics, sound and gameplay over the original. So those who never played Dying Light will be able to have a lot of fun with the main campaign too, while those who have completed it can jump back into the world and conquer the new area surrounding The Following campaign.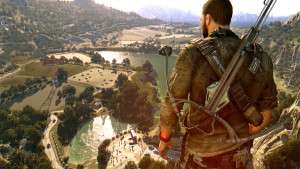 The Following starts with mysterious rumors about people living outside of the city who are immune to the disease that turns everyone else into zombies. Your character from the main game goes out to investigate. You reach the new area by traveling through a sewer tunnel that goes under some tall mountains and then diving off a cliff into a river. Thereafter you can actually load up a saved game in either area. For example, back in the city's core game I picked up a mission where I had to collect 20 bags of coffee. I easily found that in the Following DLC, loaded up a game and said I wanted to start in the city, traded in the coffee and re-saved. Then I continued adventuring in the Following DLC. Bit of a cheat I guess, but it's nice that you don't have to totally complete one to adventure in the other once The Following is unlocked.
[amazon asin=B019GNMT9Q&text=Start your own drive through the zombie-infested countryside with a copy of Dying Light: The Following from Amazon.]
If you are used to the clustered and vertical environments within Haran city, you might feel a bit exposed out in the countryside where Dying Light: The Following takes place. Buildings are rarely more than one or two stories, and only in a few small towns will you find them clustered together. This makes your grappling hook, which hopefully you have unlocked at this point, much less effective since you can't generally use it to make quick escapes up and out of trouble.
The landscape instead is mostly farm country and meadows. There are literally miles of terrain between outposts or even points of interest in some places. If you were to walk it, you might be spending a lot of time on the road. You are also guaranteed to run into trouble at some point if you attempt that, and remember, you don't have many vertical escape options. Thankfully, The Following introduces a new vehicle that can provide transportation through the countryside.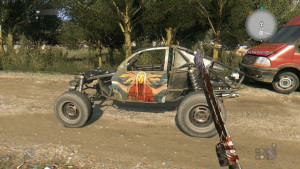 When you arrive in the countyside, you are given a dune buggy. The driving mechanic is pretty well done and things like handling capabilities can be upgraded over time. In fact, the game adds an entirely new skill tree centered on driving. It's most like the agility skill tree where you get points for running around, only you get driving points for moving around in your buggy. Driving fast gets you points as well as smashing zombies on the road and making crazy jumps.
The problem with just smashing everything and making big jumps is that your buggy is not indestructible, though it is quite rugged. When you hit something or go over a big bump, one of your vehicle's five parts like the tires or the suspension or the engine will take damage. You can repair those parts but need to find the right kind of scrap, mostly screws, at least for a while before the part totally wears out like your weapons always eventually do. Screws and car parts can be found by searching cars along the road, and there are many wrecks to pick from. As you increase in driving skill you gain the ability to craft better vehicle components too, so you can craft a level two suspension or a level three engine for example. This improves your vehicle's performance and also in most cases its durability, so the parts wear out more slowly.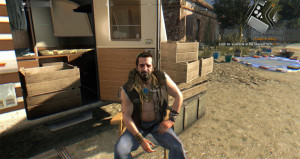 The biggest problem I have with the vehicle is that your character is pretty vulnerable when driving it. Fast zombies can actually run you down if you are going at anything other than top speed. They can then jump onto your vehicle and pummel you while you drive. You can try to shake them off, or you can stop and cut them down. At night it's almost impossible to drive because the augmented zombies can run even faster, plus they tend to attack in packs. Your vehicle also makes a lot of noise, so they come from pretty far away to try and get you. I liked moving around at night in the city, but found it more trouble than it was worth in the countryside.
The plot behind The Following is pretty interesting. Of course, not everything is what it seems at first, and that immunity will prove to be quite elusive. As you complete missions for the people who live there, doing everything from getting the water flowing to delivering packages to children, your respect level with the locals will rise. This gives you access to story missions which help to unravel the mystery of what is really going on in the countryside. You also get access to a crossbow which is a fairly powerful ranged weapon that seems a bit better than the normal bow from the core game. Like the bow, various ammo has special properties to give shots a bit more punch.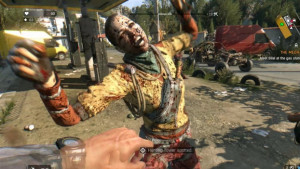 One of the biggest strengths for Dying Light for me was the fact that the world was really unique. Adding Dying Light: The Following – Enhanced Edition gives us yet another glimpse into that really interesting world that developer Techland has created. And the DLC is pretty huge. It could almost be considered a game in and of itself. Adding it onto an already great zombie title and also enhancing the original with better graphics and sound is good deal all around.
Dying Light: The Following – Enhanced Edition earns 4.5 GiN Gems for being a unique and fun zombie title that just expanded into an even better experience. Oh yea, and it now has a customizable dune buggy for a few cool bonus points.