Hello everyone, I'm back with a game that covers the ending of one of the Big 3 Manga of Japan. It's Naruto Shippuden: Ultimate Ninja Storm 4!
Plot: The plot takes place right before Tobi's mask is broken and we the audience get to learn his true identity. I won't spoil anything for anyone who is for some unknown reason isn't watching the Anime, which has been in Filler for the last year I believe, and hasn't read the Manga. It goes right to the ending of the series. I won't comment on it anymore than this, as I try not to deal with any of the "Big 3" in my personal columns and there's no need to go into it here.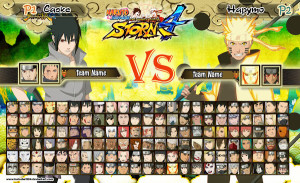 Characters: Boasting a truly huge cast of characters to pick from this game has one of the biggest character pools available for a game I've ever played. Granted that everyone is controlled essentially the same, but still it's a huge pool of choices.
Gameplay: It plays quite similarly to other games in the Ultimate Ninja Storm series, with a control scheme that isn't as simple as I'd like. It's not as complex as Soul Calibur, which is a good thing, but there's something to be said for beauty in simplicity and Storm 4 doesn't have that. There are times when I'd try to perform an action and just be unable to do so due to the overly complex nature of the game.
[amazon asin=B00RHI62OG&text=Start your journey with Naruto Shippuden: Ultimate Ninja Storm 4 with a copy from Amazon]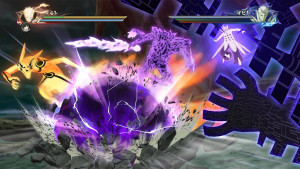 Things like items to be used during battle are relics of an older game and pretty much never used except in top level play. That being said I loved the new addition of being able to fight on walls, which is a distinctly ninja sort of thing and is perfect for the game. However I do have one more complaint and that is quick time events, they are part of the story mode fights and I hate them with a passion. It adds unnecessary complications to an already hectic battle. However, passionate fans of the Manga won't care about any of what I just said and will love the game regardless.
Art: Here's where the game shines, it has amazing artwork, taken straight from the Manga and with graphics that easily beat the crap out of the Anime. You encounter ridiculous angry faces in fights with amusing frequency in scenes that were genuinely amazing to behold. I really can't underline this enough, the game is beautiful, even if other parts are severely lacking.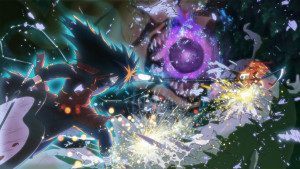 Music: Musically the game isn't bad, but it's nothing amazing. I do have one word of advice and that is to use the Japanese audio instead of English, it will sound a heck of a lot less stupid after using Naruto's Rasengan attack for the umpteenth time. The English VAs are just terrible, sorry Dub fans, it lacks the emotional depth that even non Japanese speakers can understand just from verbal tone. So please do take this word of advice seriously, as it will impact how you view the game profoundly.
However even the Japanese audio has it's hiccups in Adventure mode where it was very obvious that the voice actors were phoning in the lines instead of getting them done properly in a studio. The first few lines out of the character's mouths in Adventure mode are so bad that I would've thought that it was an issue on my end if I didn't know for sure that it wasn't.
Overall: If you love Naruto, you'll be wanting to play this game.
For those who like: Naruto, Fighting Games, Huge Cast of Playable Characters, Top-notch Artwork, Good Music, Decent Gameplay.
Not for those who don't like: Any of the above.