Hey all I'm back with a debut novel from the good people at Tor. It's Game of Shadows by Erika Lewis.
Plot Synopsis: Thousands of years ago in Ireland, an ancient race fought a world-changing battle―and lost. Their land overrun, the Celtic gods and goddesses fled, while the mythical races and magical druids sailed to an uncharted continent, cloaked so mankind could never find it. This new homeland was named Tara.
Meanwhile, in modern day Los Angeles, Ethan Makkai struggles with an overprotective mother who never lets him out of her sight, and a terrifying secret: he can see ghosts. Desperate for a taste of freedom, he leaves his apartment by himself for the first time only to find himself suddenly attacked by ravens outside his school…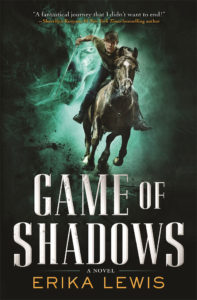 Plot: The plot was gripping and I finished it in one sitting. I wasn't expecting to enjoy the book as much as I did, even though I've read countless other similar stories I was still entertained and thrilled reading this book. I won't spoil the plot by listing what else I liked, but if you enjoy any sort of fantasy story, you'll probably love this book. Hopefully the sequels come out soon.
[amazon text=Jump into this amazing series on the ground floor with a copy of Game of Shadows from Amazon!&asin=0765381389]
Characters: Ethan is a really stubborn kid, but most fourteen year olds are, frankly the stuff he pulls would have frustrated me to tears if it weren't for the rest of the cast. Lily and Captain Bartlett in particular made the book much more bearable. Lily because she's a young woman who is capable and doesn't take crap from anyone including her own father who is a general. Bartlett because he's a scoundrel, and I've always had a soft spot for the roguish characters in stories.
Overall: If you want a great Fantasy story to read, you'll find Game of Shadows to be just the right book for you.
For those who like: Fantasy, Irish Mythology, Coming of Age Stories, Amazing Plot, Excellent Cast of Characters.
Not for those who don't like: Any of the above.