I'm back with the latest and third entry in the Carson Mach series. It's time to break through the enemy lines in The Terminal War by A. C. Hadfield!
Plot Synopsis: A millennium into the future. In a galaxy far from Earth. We were not prepared for the Terminal War. Billions of lives are at risk as enemy forces mass on the frontier of the Commonwealth.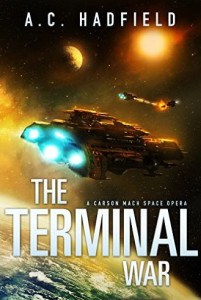 Plot: Like the previous two entries this is technically a stand alone novel, but I'd recommend listening to them in order for clarity and to understand references. That being said it's just as fast paced as the prequels and I love it. If there is one thing to be said for this series, it's that it doesn't dicker around with long exposition and has very fluid non-action to action sequences.
Join The Terminal War from Amazon!
Characters: All the previous characters from prior books reappear, which is great. I missed Morgan from the previous book and getting to see the story from his point of view again is great. Babcock and Mach are the stars of the book though and I enjoyed that immensely. We also get to really meet Barringer for the first time, which is awesome. I hope he sticks around for future books.
Overall: This is a great entry in this fast paced Space Opera series. Well worth the listen.
Excerpt: It's back into space with The Terminal War: A Space Opera Novel by A. C. Hadfield this week. Recently released in audiobook format, it brings the sound and fury of The Carson Mach series to life.