Hey all, I'm back with the first entry in a newer Urban Fantasy series. It's Desdaemona by Ben Macallan and Chaz Brenchley.
Plot Synopsis: Jordan helps kids on the run find their way back home. He treads the line between mundane reality and the world of the supernatural. Desdaemona also knows the non-human world far too well. She tracks Jordan down and enlists his aid in searching for her lost sister Fay. This may be a mistake – for both of them. Too many people are interested in Fay's sister, and some of them are not people at all!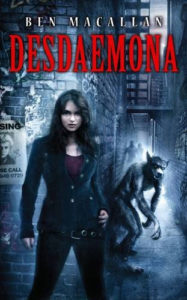 Plot: The plot is alright, but after having read/listened to so many Urban Fantasy series over the last half-decade I've come to find that some are better than others. Unfortunately for Desdaemona it isn't one of the better ones.
Characters: Jordan and Desi just don't make for interesting enough characters for a large portion of the book, especially when compared to characters like Harry Dresden or Mercy Thompson. Where Harry is snarky and mouthy to everyone, Jordan is meek and cowardly/paranoid and Mercy is just a lot more interesting compared to Desi.
Jump into a brand news series with Desdaemona from Amazon!
Voicework: Richard Hughes is the narrator and while he did a passable job, I can't help but think that he just got dealt a poor hand by getting assigned to read this book. Unfortunately, there are only four books he's narrated and two of them are non fiction, which I don't read for book reviews.
Overall: If you are starving for an Urban Fantasy book, Desdaemona will satisfy that craving. However, if you want a quality Urban Fantasy to listen to there are better series out there.