Hi all. This week I'm reviewing a book I've never even heard a thing about! It's Nightwise by R.S. Belcher!
Plot Synopsis: In the more shadowy corners of the world, frequented by angels and demons and everything in between, Laytham Ballard is a legend. It's said he raised the dead at the age of 10, stole the Philosopher's Stone in Vegas back in 1999, and survived the bloodsucking kiss of the Mosquito Queen. Wise in the hidden ways of the night, he's also a cynical bastard who stopped thinking of himself as the good guy a long time ago. Now a promise to a dying friend has Ballard on the trail of an escaped Serbian war criminal with friends in both high and low places – and a sinister history of blood sacrifices.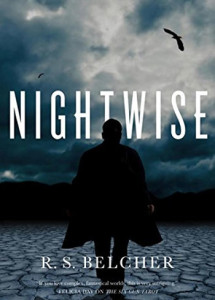 Plot: The plot isn't super amazing, in fact I don't particularly like the book, but that being said it's not the worst book I've listened to or read in even the last year. Ballard has a running monologue that is sometimes funny, and other times just disturbing.
Characters: Ballard is an ass, and pretty much every other character is as well. I don't think I can remember a single character which doesn't make me feel like this world is filled with jerks. Ballard may be funny occasionally, but he's not as snarky as Harry Dresden from Dresden Files or has nearly as funny a sense of black humor as Gin Blanco from the Elemental Assassin series.
Voicework: Bronson Pinchot did a great job with this book, but it's just hard to make me care about characters that make my stomach roil. It's nothing that he did, but the author just made a book which I just don't like. That being said, Bronson Pinchot is someone who I'd definitely listen to again.
[amazon asin=0765374609&text=Pick up Nightwise from Amazon!]
Overall: This isn't as good a book as many other Urban Fantasy series, but it's not the worst book I've read this year, that goes to Nouveau Hatiah. If you're really desperate to listen to an Urban Fantasy this might satisfy you, otherwise you can skip this.
For those who like: Anti-Hero Protagonists, Urban Fantasy, Magic, Action.
Not for those who don't like: Any of the above, or characters that make you feel soiled, or mediocre plots.