Hey all for this week's Book Review I'm back with the penultimate entry in the Dragonvein series. It's Dragonvein Book 03.
Plot Synopsis: The time has come when the people of Lumnia must unite or be doomed to fall. Ancient foes must become trusted friends if they are to endure. But The Eternal Emperor Shinzan has weapons that have yet to be unleashed. And he will not allow the challenge to his power to go unanswered. Ethan must now seek out the meaning of the prophecy that has guided his fate. With Kat at his side, they walk fearlessly into the unknown. But ghosts from the past return to haunt them. And their love and devotion will be tested to the very limits of endurance.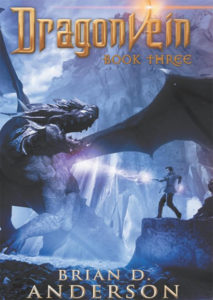 Plot: The plot is intense from the start of the book right until the end. I was happy to see that the love triangle between Lilanora (spelling is probably wrong, but that's the one big issue with Audiobooks), Kat and Ethan had been completely resolved by the end of the last book. However, Mr. Anderson decided to add another love triangle, which is a plot device I'm not very fond of, and was quite disappointed in that plot development. As for the rest of the plot I found it to be quite good, and was very satisfied with how it's turning out.
Jump into this series with a paper or audiobook copy from Amazon
This looks to be the penultimate book in the series, and it lives up to that expectation very well. Lots of plot threads were resolved, and more threads were revealed. This book leaves lots of expectations for the final volume of the series and I hope they are resolved properly.
Characters: We aren't introduced to many new characters in this book, but David was definitely my least favorite of the bunch. Martok, a character introduced at the end of the last book, was actually very interesting to me. I don't necessarily agree with his goals, but his methodology was quite refreshing after constantly being left with Ethan's "boy scout" nature. Of the rest of they were all pretty decent, and Kat is still my favorite character.
Overall: An excellent entry in a series that looks to be concluding in the following volume.