Hi all, I'm back with the seventh entry in the ever excellent October Daye series! It's time for the bells to toll with Chimes at Midnight by Seanan McGuire!
Plot Synopsis: Things are starting to look up for October "Toby" Daye. She's training her squire, doing her job, and has finally allowed herself to grow closer to the local King of Cats. It seems like her life may finally be settling down…at least until dead changelings start appearing in the alleys of San Francisco, killed by an overdose of goblin fruit.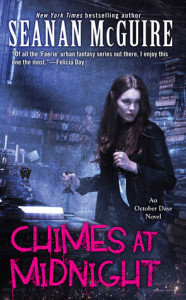 Plot: I keep thinking that Miss McGuire can't top the previous entry in terms of situations that make you go "Oh Crap." I've been pleasantly wrong each and every entry so far and Chimes at Midnight is no exception to that! So much happened in the first three hours I had to double check to make sure that I didn't actually plow through the book and had reached the end. I was surprised to find that I barely had touched the book, and I've rarely had any non-Sanderson book do that to me. If it does happens I always know that the book is very good.
Pick up Chimes at Midnight from Amazon right now!
Characters: Arden and Madden are the two biggest newcomers to the series, and Madden is definitely my favorite for Chimes at Midnight. The rest of the newcomers are also great, but Madden is the best of them. Tybalt, Quentin, and May all have enough badass moments to firmly cement them as my favorite characters as well.
Overall: Chimes at Midnight is probably the best entry in the series so far, a must listen.