I'm back with An Artificial Night, Book 03 of the October Daye series. This time it's not a case of whodunit. It's a case where simple children's games have incredibly high stakes. Don't be afraid of the dark with An Artificial Night by Seanan McGuire!
Plot Synopsis: Changeling knight in the court of the Duke of Shadowed Hills, October "Toby" Daye has survived numerous challenges that would destroy fae and mortal alike. Now Toby must take on a nightmarish new assignment. Someone is stealing both fae and mortal children.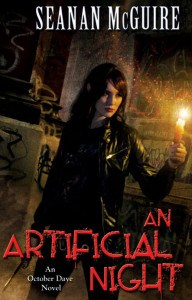 Plot: Like I mentioned above, An Artificial Night is rather light on the mystery in this entry, but since it builds on the backstories of several important characters, I'm not too picky. It's quite a fun and thrilling ride we get taken on in this time around. My personal favorite scene of the book is when Toby has a high-speed car chase over the Golden Gate Bridge and down the many hills of San Francisco. The rest of the book is great as well, but I won't spoil anything.
Characters: We get introduced to a few new characters. Acacia is probably my favorite of the new ones although Raj comes really close. My personal favorite character of the series, Tybalt, also shows up with his usual snarky self, which is always fun.
[amazon asin=B003YL4AJE&text=Pick up An Artificial Night from Amazon]
Overall: It's less mystery than previous books, but given the incredibly high stakes of the plot it doesn't matter at all. Definitely a worthy entry in this series.