Hey all, I'm back with the sequel to Nice Dragons Finish Last for my Book Review this week! It's One Good Dragon Deserves Another, Book 02 of the Heartstrikers series, by Rachel Aaron!
Plot Synopsis: After barely escaping the machinations of his terrifying mother, two all-knowing seers, and countless bloodthirsty siblings, the last thing Julius wants to see is another dragon. Unfortunately for him, the only thing more dangerous than being a useless Heartstriker is being a useful one. Now that he's got an in with the Three Sisters, Julius has become a key pawn in Bethesda the Heartstriker's gamble to put her clan on top. Refusal to play along with his mother's plans means death, but there's more going on than even Bethesda knows…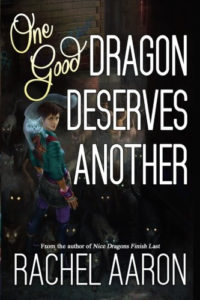 Plot: This book builds upon the world we learnt about in the first novel and expands on it with more twists and turns than a Michael Connelly novel. That's saying something as Connelly has been one of the few authors I can name off the top of my head who regularly surprises me.  One Good Dragon is an amazing book and I'm very much looking forward to listening to the next book. The fight scenes in this book are something I want to point out, with the fights being quite epic. There's even one fight that would fit right into the Nasuverse, with a pretty obvious reference to a certain blond king of kings.
Get One Good Dragon Deserves Another from Amazon
Characters: We don't get to meet many new characters in this entry, it's mostly an expansion of our knowledge of characters we met in the first book. That being said, of the newcomers Amelia is probably my favorite, and yes that is Amelia with all the implications anyone who knows Bethesda's naming scheme will understand.
Overall: An excellent sequel and entry in a series that is shaping up into an amazing series.