Hey everyone. I'm back with a book I was asked to review from one of our fellow readers of my columns and reviews! It's Stuck in the Game by Christopher Keene!
Plot Synopsis: After a terrible car accident puts seventeen-year-old Noah Newbolt into a coma, he is hooked up to the innovative Dream Engine—a virtual reality helmet that immerses the player in an online fantasy game. The Dream Engine keeps Noah's mind alive while doctors frantically work to heal his body, but dying in the game could send Noah back into a coma, forever.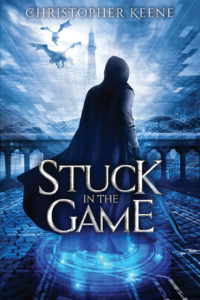 Plot: The plot is mixtures of the Play to Live series, one of the first LitRPG books that really began the genre's popularity, and Sword Art Online, a Japanese Light Novel series that has been adapted into multiple Manga series and two Anime seasons with four cour's worth of episodes in total. That being said there are some real big differences between those two series and this book. In the first two, technology allows for straight up full immersion with just some equipment. In Stuck in the Game there is an added restriction of a certain drug needed to play various full immersion VR games. I'm not quite a fan of adding addictive drugs into an already volatile mixture of addictive "material." I would have preferred if Mr. Keene had gone the route of Play to Live and Sword Art Online, but I do understand why he chose to add that additional factor.
[amazon asin=194445229X&text=Find out what VR is like when your life depends on it with a copy of Stuck in the Game from Amazon]
Now as for the actual plot I enjoyed it, it's not the best I've read in the LitRPG genre regardless of the original language the series came from, it's in the lower 40 percent overall if I had to make a numeric judgment. That being said I've read worse, and Stuck in the Game was a relatively quick read for me so I'm not too upset.
Characters: Noah is a fairly interesting main character, he has no idea how to play games and can just ignore most mental blinds that many gamers would normally have. That being said he's also not very good at interpersonal relations, which makes him somewhat less original since most average LitRPG protagonists have the same issue. The rest of the cast is okay, although my personal favorite is Siena because she just doesn't give a crap about consequences and just wants to have fun.
Overall: For people who enjoy a quick LitRPG story, Stuck in the Game will serve pretty well, just don't expect a bunch of originality.
For those who like: LitRPGs, Action, Adventure, Novels with Gaming as a Plot, Good Plot, Decent Cast of Characters.
Not for those who don't like: Any of the above.