Hi all, I'm back with another book from Tor. This week it's Steeplejack, Book 01 of the Alternative Detective series, by A. J. Hartley!
Plot Synopsis: Seventeen-year-old Anglet Sutonga lives and works as a steeplejack in Bar-Selehm, a sprawling city known for its great towers, spires, and smokestacks and even greater social disparities across race and class. But Ang's world is turned upside-down when her new apprentice Berrit is murdered the same night that the city's landmark jewel is stolen…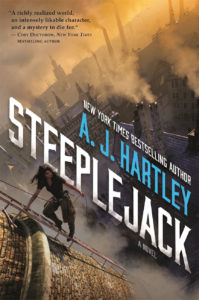 Plot: The plot was really good, and once I started reading the book I didn't put it down until I finished it around midnight, which gave me a rather sleepless night, since I read in the evenings before bed. But that isn't a bad thing, and should go to show how well written and exciting the book is. Not many books nowadays can keep me engaged so much that I lose track of time completely. That being said this is a book aimed at Young Adults, so while there is some more mature themes they are few and far between.
[amazon text=Start a new adventure with a copy of Steeplejack from Amazon!&asin=0765383438]
Characters: Ang is a very well written and deep female lead character, and seeing the world through her eyes was exciting and fun. I enjoyed her immensely, that being said the rest of the cast is also pretty good, although I'm having a bit of a tough time choosing a favorite side character. There are a couple that stand out, but I can't pick which. I won't name them because that might be a bit too spoilerific.
Overall: If you want a wonderful action/mystery adventure to read with an amazing female lead who is strong in spite of her socioeconomic standing, then Steeplejack is the perfect read for you. The sequel is coming out in a month as well.
For those who like: Action, Mystery, Fantastic Plot, Excellent Female Lead, Amazing Cast of Characters.
Not for those who don't like: Any of the above.