This week for my Audiobook Review I'm covering a new series that caught my attention with an interesting plot hook and left me warmed to the heart. It's time to act on some Good Intentions, Good Intentions Series Book 01, by Elliott Kay
Plot Synopsis: He knew it was a dumb stunt from the start. A midnight run through a cemetery to impress a couple of girls is hardly the stuff of legend, but Alex Carlisle longs to escape the crushing mediocrity of life after high school. Then he stumbles upon the ritual, and the cultists, and two bound and bloodied women.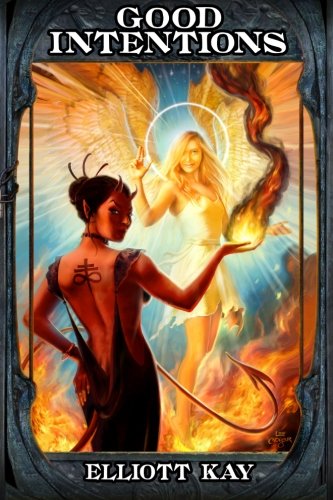 Plot: So word of warning, if you are easily offended by just about anything this book isn't for you. There is so much violence, obscenities and explicit acts that it will make anyone who can't keep an open mind froth at the mouth like a rabid raccoon. So if that describes you, stop reading this review right now. Good? Alrighty than, Now that my word of warning is out of the way, the plot is good but it is filled with acts some old geezers would find questionable. I being rather young and open minded found some of the plot tiring and the sex scenes unnecessary, but given the nature of the characters in this book I can't fault the author for going into details. This all being said, I found that the plot of the book was heart warming and touched upon so many different religious ideals from pretty much every religion known that I was actually pleased to continue listening despite the sex scenes. The story is about doing good, making up for past mistakes and overcoming fears for all members of the main cast of characters.
Jump into this excellent series with a copy from Amazon.
Characters: Of the main three characters, I enjoy Lorelei the most, although Rachel is a very close second for being as snarky as she is. The changes Alex, Lorelei and Rachel experience over the course of the book are great and I enjoy them immensely. That isn't to say the rest of the cast is bad, they are generally wonderful although there are a few you are meant to despise and you'll want to do so upon meeting them. Onyx is another favorite, despite being one of the sub-characters in the book, but she's not as good as the main three.
Voicework: Tess Irondale narrates this series and does an amazing job with it. She gets the male voices down great, and the female voices are just wonderful. I'm looking forward to listening to future books narrated by her.
Overall: If you can keep an open mind, this book will delight and surprise you.
For those who like: Urban Fantasy, Amazing Character Development, Excellent Plot, Fantastic Cast of Characters, Great Voicework.
Not for those who don't like: Any of the above, or can't keep an open mind.