Hey all I'm back with the final entry in one of the first series I reviewed for Tor. It's Guardian, Book 03 of the Steeplejack Trilogy, by A.J. Hartley!
Plot: This is a very fitting final entry to a series about empowerment. About how old, bigoted, exclusionary and greedy ways of those who think they know better because they have the mistaken belief that age brings wisdom, can and must fall to the new, uplifting and inclusive ways of the younger generation. I tend to really hate doing deep literary analysis, a topic for one of my Bookish Wednesday columns that I really need to write sometime soon.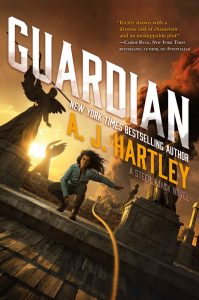 However, the underlying message of this series, in particular the final few scenes which had me cheering at the end, were the sort of message I want my baby sister and brother to believe in. Because what they can see on television or on news websites is full of so much that is wrong with our world. I feel like I'm waxing a bit too poetic, but those were the feelings and reaction I had after turning the final page. That what they can learn from this book, and series as a whole, are full of more wisdom than years spent in a school or listening to fat old men rage against things they have no right to even criticize.
[amazon text=Jump into the high fantasy of Steeplejack with a copy of Guardian from Amazon!&asin=B077MLFN9B]
So I enjoyed this book immensely. Because Ang is not only an incredible heroine, in spite of her own world's various prejudices against people of color, low means of birth, gender and sexual orientation, but that she is also a role model I want my baby sister to aspire to emulate in her life.
Characters: There are some new faces, but the stars of this final volume are Ang and Dariah. The rest of the cast is pretty great as well though.
Overall: An excellent end to a series that has all the markings of being one of the all-time great stories about empowerment. A must read for any teen and a story that could and probably should be mandatory reading along with the likes of Huckleberry Finn.