Hey all, I'm back to writing my reviews, and this week I've got a real awesome entry in one of my favorite series. It's Snake Eyes, Book 11 in the Demon Accords by John Conroe!
Plot Synopsis: Las Vegas. Sin City. What happens in Vegas…could kill most of the human race. When all trails lead Chris, Tanya, and their entire team to the desert gambling mecca, the stakes become the highest possible.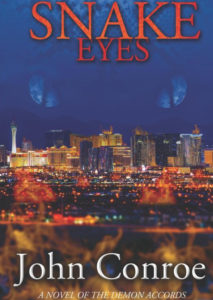 Plot: The plot of this entry is excellent. It starts with action and ends the same way. Plus, we get the whole gang of Chris' team, Arkady, Lidiya, Nika, Awasos, Declan and Stacia. The previous entry was good, as it covered the two youngest members of the team, Declan and Stacia, but I missed having the entire crew in the action.
Get your hands on a copy of the exciting Snake Eyes from Amazon!
Characters: We don't really get introduced to too many new characters, and those we do I won't say because it would be super spoilerific. That being said, it was awesome to have Lidiya back. I really missed her snark in Rogues.
Overall: One of the best entries in the series yet, which might just be even better than the Dresden Files.