I'm back with another Audible Studios audiobook review, this time it's a brand new series I've never listened to and a new author I've never read before.  It's Ghost Seer, Book 01 of the Ghost Seer series by Robin D. Owens.
Plot Synopsis: When her eccentric aunt passes away, no-nonsense accountant Clare Cermac inherits more than just a small fortune. She receives the gift of communicating with ghosts. While Clare may not believe in spirits, it's hard to overlook the shadowy talking dog appearing on her bed or spectral cowboys tipping their hats to her in the streets of Denver. And when she locks eyes with sexy – and living – Zach Slade, there's certainly no ignoring him either.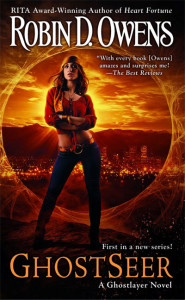 Plot: The plot is pretty good for a series I've never heard about or seen on any Goodreads.com list. That being said there are multiple sex scenes in the book if that is a deal breaker for you. I wouldn't necessarily call the book erotica, because it isn't, it is urban fantasy.
Characters: Zach and Clare are very interesting main characters, because they are both very flawed. Clare doesn't believe in ghosts, and while Zach doesn't either his flaw has more to do with his own injuries rather than anything he can or cannot see. However I'd have to say I really do enjoy Enzo, the ghost dog, quite a bit. He doesn't quite fill the spot of Bob from the Dresden Files, but he comes close enough. Plus I'm a sucker for talking dogs in books.
Audiobook link: http://www.audible.com/pd/Romance/Ghost-Seer-Audiobook/B00K7EJEKG
Voicework: Coleen Mario is the reader of the book and I really do enjoy her work for this book quite a bit, like Miss Owens I've never heard her in anything prior to listening to this, but she will be on my watch list in the future.
Overall: I really enjoyed this one, and I'm going to continue listening to the series as I actually enjoyed it quite a bit.