Hey all, I'm back with the penultimate entry for my favorite Fantasy/Sci-Fi/Steampunk audiobook series. It's The Servants of the Storm, Book 05 of the Pillars of Reality, by Jack Campbell!
Plot Synopsis: A Storm that will wreck a world threatens Dematr. Only Mari, one of the Mechanics who control all technology through their Guild, has a chance to stop it. She and Mage Alain have survived numerous attempts to kill them and have gained many more followers, but the Storm of chaos, born of centuries of enslavement, grows ever closer.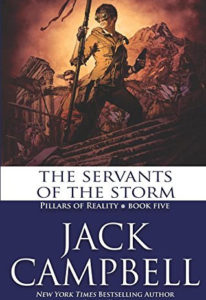 Mari leads an army now. She and Alain must fight together to bind back the Broken Kingdom and build a force strong enough to defeat the might of the Great Guilds. But the Storm has many Servants who seek to preserve or gain personal power or wealth, or fear the New Day that Mari seeks to bring to the world.
[amazon asin=1625671393&text=Enjoy Servants of the Storm with a copy from Amazon.]
Plot: This entry is both a setting up and thread closing book for the series. What I mean by that is that we get some plot threads finally solved, but we also are setting up for the final entry in the series. So it's not the quite the climatic conclusion just yet. That all being said I was very much enjoying the book despite the fact that I have to wait to get the next and final entry in the series.
Characters: We get more interactions with the Princess of Tei, who we met at the end of the last book, but mostly this entry isn't about meeting new people. It's all about setting up for the last battle.
Overall: I couldn't state this enough even if I tried, but if you haven't been listening to this series you are truly missing out on an amazing series.