Hey all I'm back with the second entry in the Drake Ramsey series! It's Emerald Buddha by Russell Blake, now in audio book format.
Plot Synopsis: Drake, Allie, and Spencer reunite in Emerald Buddha, the second Drake Ramsey adventure – a quest to locate the lost treasure of the Khmer Empire, secreted away in a hidden temple somewhere in the Golden Triangle. But nothing is as it seems…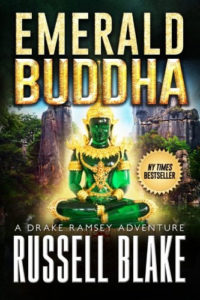 Plot: The plot of this entry is just as thrilling as the previous one, and I really enjoyed it quite a bit. There is plenty of action and intrigue, including some political intrigue. Though that's a given when we are talking about Myanmar and Laos. We get to see lots of new PoVs in this book.
[amazon asin=1517585848&text=Begin your quest with a copy of Emerald Buddha from Amazon!]
Characters: I'm really glad that Drake, Allie and Spencer return in this book, in particular I really enjoy Spencer. He was my favorite characters in the first book and I really enjoyed his role. Of the newcomers in this book, Joe, is probably my favorite, though Uncle Pete is pretty close too. The rest of the newcomers are good, but Joe and Uncle Pete are the standouts.
Overall: An excellent Sequel, I can't wait to listen to the third entry in the series. Definitely a must listen to for any adventurous people.