I'm back with eighth entry in the increasingly amazing October Daye series! It's time to brave the frost with The Winter Long by Seanan McGuire, Book 08 of the October Daye series!
Plot Synopsis: Toby thought she understood her own past; she thought she knew the score. She was wrong. It's time to learn the truth.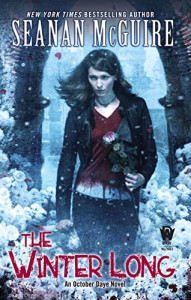 Plot: Remember in the last review of this series where I said I keep expecting Seanan McGuire to be unable to keep topping the previous entry? Well the eighth entry takes every single big reveal from all the previous books wraps them up into a single object and than tops that. This entry has firmly solidified my view of Miss Mcguire as one of the eminent writers of the past twenty years. She's not quite Brandon Sanderson, but since Brandon Sanderson is a novel writing monster (in a good way!) he's a pretty high bar to meet, but she's easily as good as Jim Butcher who is another of my favorite authors.
[amazon asin=0756408083&text=Start reading or listening to The Winter Long from Amazon]
Characters: We don't get introduced to new characters in this entry, but the people who show up from previous books make up for that easily. Tybalt and Quentin are still two of my favorite characters, with May slipping to becoming a just less favored character of mine. I really do hope in the future books May get's more screen time, as she is awesome as a character.
Overall: If you've read all the previous books, you must read this one as it takes everything up to eleven in amazing ways.