Hey all, this week I have a review of a book that continues a cult classic TV series' story. It's Dark Shadows: Heiress of Collinwood by Lara Parker.
Plot Synopsis: "My name is Victoria Winters, and my journey continues." An orphan with no knowledge of her origins, Victoria Winters first came to the great house of Collinwood as a Governess. It didn't take long for the Collins family's many buried secrets, haunted history, and rivalries with evil forces to catch up to Victoria and cast the newcomer adrift in time, trapped between life and death. At last returned to the present, Victoria is called back to Collinwood by a mysterious letter.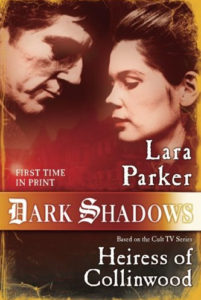 Hoping to fill in the gaps of her memories by meeting with the people who knew her best, Victoria returns to the aging mansion. However, she soon discovers that the entire Collins family is missing except for Barnabas Collins, a vampire whose own dark curse is well known. Victoria discovers that she has been named sole heir to the estate, if only she can prove her own identity. Beset by danger and dire warnings, Victoria must discover what dread fate has befallen Collinwood, even as she finally uncovers a shocking truth long hidden in the shadows.
[amazon asin=0765377764&text=Wade into the classic Dark Shadows with a copy from Amazon!]
Plot: This is unfortunately the best and worst part of this book. If you are a fan of the show that last aired over 40 years ago, this will be an awesome addition to the show's plot. If you were like me and have never watched the show, you will be thoroughly confused by the plot. I can tell that it adds much needed closure to various plot lines, but not knowing them except for the ending is more than a bit confusing.
Characters: All the characters were pretty well fleshed out, and while I enjoy Victoria for her tenacity to persevere I have to admit that she was about the only character I admired. I probably would've enjoyed the rest of the cast more if I had been able to watch the show before reading this book. This is most assuredly not a self-contained story and for those not yet fans of the series it is a poor entry point.
Overall: Despite not having watched the show, I can tell that Heiress was a very well done book written by one of the original actors in the show that ties up many loose plot lines. But for those who haven't watched the show it's going to be a bit of a confusing mess.
For those who like: Urban Fantasy, Time Travel, The Original TV series Dark Shadows, Drama, Mystery, Good Plot, Great Cast of Characters.
Not for those who don't like: Reading something that could very well be the ending of a story without having experienced rest of said story, or any of the above.