Hi all. I'm back with the sequel to The Dark Between the Stars. Today we are giving a listen to Blood of the Cosmos, Book 02 of the Saga of Shadows series. If you want to avoid spoilers don't continue to read this article until you have finished both titles.
Plot Synopsis: As the second book of the trilogy opens, the humans and Ildirans, having narrowly escaped annihilation at the hands of the Shana Rei and their robot allies in book one, are desperate to find a way to combat the black cloud of antimatter of the Shana Rei.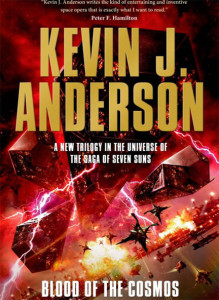 Plot: So this entry is just as thrilling as its prequel, and the prequel series, and it's easily another one of those must read stories. I'm really looking forward to the last book, which should be releasing sometime in 2016. I'm not looking forward to the wait though!
Characters: Orli and Garrison Reeves's romance is pretty fun to watch unfold, especially after the conclusion of the last book, where Orli was cured of the Anthos plague.
[amazon text=Start Reading Blood of the Cosmos from Amazon&asin=0765333007]
Reynald and Osira'h also have a great romance, and I really enjoy the fact that I can believe it, it's not sappy and it's not like all of a sudden. That being said I was thinking that Tom Rom was going to be my new Davlin, but he's just too bloodthirsty for me to like him. Zoe also is a character that I dislike, although I do understand her reasoning, even if it's incredibly screwed up. The rest of the cast is great, but DD is still one of my favorite characters.
Overall: An excellent sequel, proving to me once again that Kevin J. Anderson has a great universe in this series.