I'm back with another exciting entry in the Ghost Hunter Mystery series! It's time to do some haunted spelunking with Ghouls Gone Wild by Victoria Laurie!
Plot Synopsis: Psychic M.J. Holliday finds herself in a witchy situation. When M.J. and her friends travel to a small town near Edinburgh, Scotland, to film the first installment of their new cable TV show Ghoul Getters, they find plenty of spooky action in a series of supposedly haunted caverns.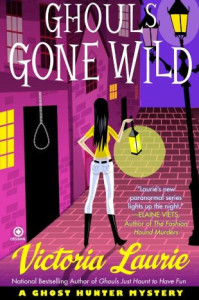 Plot: The plot is pretty intense from page one, till the end. I enjoyed this entry quite a bit, although it's not my favorite of the series so far. That being said it had plenty of mystery and mayhem to satisfy me.
Pick up Ghouls Gone Wild from Amazon!
Characters: We don't really get to meet many new characters, although Sam and Wendell are this entries top newcomers. That being said M.J. and Gilly got on my nerves big time in this book, and to top that off we get to see very little butchery of the English language by Steven. Heath wasn't nearly as bad as M.J. and I'm actually enjoying him quite a bit, although not as much as Steven.
Overall: A great entry, but not the best in the series up to this point.