Hey all I'm back with another review from the good people at Audible. It's First to Kill, Nathan McBride Book 01, by Andrew Peterson.
Plot Synopsis: When you're the best at what you do, it's not always easy to walk away. Nathan McBride was retired. The trained Marine sniper and covert CIA operative had put the violence of his former life behind him. But not anymore. A deep-cover FBI agent has disappeared along with one ton of powerful Semtex explosive, enough to unleash a disaster of international proportions….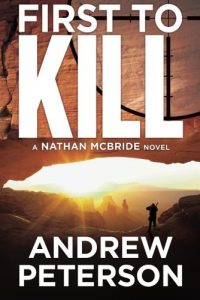 Plot: This isn't a completely original plot, in that it's not the first story to tackle the subject matter of an intelligence operator going rogue with weapons that can cause mass mayhem. That being said I still enjoyed the heck out of the story. I won't go into the story much more, but I will say that it's one hell of a ride.
Be the first of your friends to be the First to Kill, with a copy of this exciting book from Amazon!
Characters: Nathan is the star of the show, but if I had to name a second main character it'd be Harvey, a friend and partner in Nathan's careers in both the CIA and his civilian life. Honestly, I enjoyed both of them. They aren't perfect characters, but given that the series is rather long I'll bet that they get fleshed out quite a bit.
Voicework: Dick Hill is the narrator for this book, if that name sounds familiar to you it's probably because you've heard him narrating the Harry Bosch books. I will admit that when I heard his voice it took me a while to remember where I had heard his voice before since it's been quite a few years since I listened to a Bosch book.
Overall: A great book to listen to. While not perfect it will fit any military thriller and/or thriller fan's needs pretty well.
For those who like: Military Thrillers, Thrillers, Drama, Action, Good Cast of Characters, Great Narration.
Not for those who don't like: Any of the above.