Steam has withdrawn 'Rape Day' a game described as a visual novel that allows you to play as a rapist and murderer of women in the zombie apocalypse. The game is no longer available to buy on the Valve store, after an outcry from the games industry and consumers, regarding the content of the game.  The controversy follows Valve's decision last June to take a hands-off approach to moderation of content on its Steam store.
Desk Plant, the game's solo developer,  describes the game as a chance to "verbally harass, kill, and rape women as you choose to progress the story. It's a dangerous world with no laws. The zombies enjoy eating the flesh off warm humans and brutally raping them but you are the most dangerous rapist in town." Before being finally being pulled altogether the developer admitted to removing infanticide from the game to avoid being banned.
People took to social media and began to campaign against the game. Developers were uncomfortable with the violent, misogynist content and the possibility of being on the same storefront with such a game.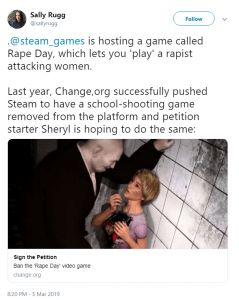 This controversy is seen by many in the industry as an inevitable situation, since Valve decided to implement an "allow everything" policy on Steam.  There have been criticisms of Steam's new rules, which state that anything is allowed "except for things that we decide are illegal, or straight up trolling."
Valve released a statement regarding its decision to remove the game, which read "After significant fact-finding and discussion, we think Rape Day poses unknown costs and risks and therefore won't be on Steam." Some commentators didn't feel the decision had been made for the right reasons and failed to take a stand against the game's content.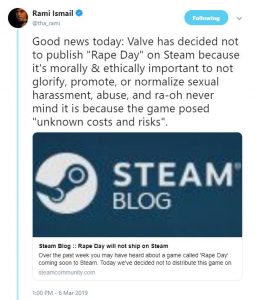 Game developer and CEO at One More Story Games, Jean Leggett, is currently working on games that explore PTSD and sexual violence. She argues for games that approach tough topics with sensitivity.
She says, "As a sexual assault survivor writing a game about a sexual assault survivor dealing with post traumatic stress disorder while uncovering a dark mystery, I have had to do a lot of research to capture experiences other than my own and to ensure that the narrative, art, and audio design of the game tells the story in an honourable and healing way for players. I would not presume to speak for all survivors but I can design content that is mindful of collective experiences."
The open door policy at Steam is making some developers nervous about submitting their games. Many don't want to support a system that seems reluctant to take any moral stand, unless pushed. The lack of clarity and the fact that games with sexual content are struggling to make it through Steam's open door system just adds to the confusion and anger.
Leggett says, "I would love to see the leadership at Steam take a stand against toxicity in general – of players and of developers. Inaction will not only drive players and developers away, but it will be an opportunity for other publishing platforms to thrive that are willing to set standards for human decency.
"One of the reasons we set out to build our own platform 5 years ago is because our target demographic, women over 30, isn't interested in being part of toxic game communities and is more interested in curated content that isn't centered around violence, especially violence against women. The more ugly and toxic Steam gets, the better it is for platforms like ours."
Responding to those who argue for freedom of speech and the right for people to make and play games with sensitive or offensive content, Leggett says, "Create your own platform for that kind of content. No one has the right to publish anywhere – Steam is a privately held company that can dictate the content it sells. We need to pay attention to who is telling the stories and why they're doing it."
Fortnite and Unreal developer, Epic launched its own publishing platform in late 2018, taking on Steam's dominance. Valve's hands-off approach, combined with Epic's  lower revenue share could see developers move away from Steam.  In addition, calls from UK MPs for an investigation into the Rape Day incident is putting even more scrutiny on Valve's policy, as well as the rest of the games industry.