E3 2015 kicked off with the Bethesda press conference, which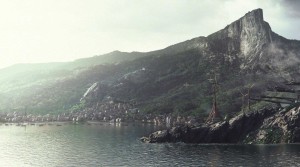 announced Dishonored 2. The gorgeous, steampunk styling remains, but this time the trailer features a female protagonist.  Players can choose to be  Corvo Attano or Emily Kaldwin. Each assassin has their own set of powers, skills and weapons, changing your playing style accordingly.
From the trailer, it's fair to assume that Emily is the default player character. She was the heir to the throne in the first game and Dishonored 2 takes place 15 years after the demise of the Lord Regent. The rat plague is no more, but Emily's throne has been taken from her. So it's time to leave Dunwall and hit the coastal city of Karnaca to help Emily reclaim what is rightfully hers.
Enough of this chit chat, check out the E3 trailer: