Meg Stivison
Game Industry News is running the best blog posts from people writing about the game industry. Articles here may originally appear on Meg's blog,
Simpsons Paradox
.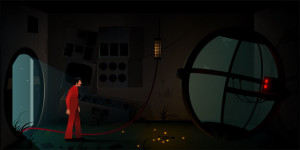 The Silent Age is a point-and-click (I mean, point-and-tap) iOs adventure from House on Fire, a small game studio in Denmark. Joe is a janitor on an average day in 1972, cleaning up on in a high-security government lab when he's summoned by the big boss, to be assigned more duties with no raise.  The setting is established immediately, with jumpsuited janitor Joe passing a photo of Nixon (Honest Richard! Joe says unironically), a massive American flag, a chainsmoking secretary, a high-security cardreader, and, is that the capital dome outside the window? Joe is extremely vague and unconcerned about any work that doesn't involve pushing a broom, but it's clear to players that all the locked laboratories, mysterious chemicals, and high-tech equipment are pretty shady.  What is our hapless hero in for?
While cleaning the labs, Joe follows a trail of blood to a mysterious time-traveler, who's been injured on a mission to stop whatever actually goes on in that building. He gives Joe a solar-powered mini time-machine and an important mission to find his younger self. Joe realizes just how much the future lies in his hands the first time he transports into the future, and discovers a desolate, destroyed world.
To help Joe on his mission, players solve puzzles by exploring, pocketing everything that's not nailed down, and using items creatively. I remember discovering that some of the "wrong" combination in point-and-click adventures like Monkey Island were funnier than the combinations that actually advanced the game. The Silent Age tells a darker story, but still has room for ridiculous flavor text. I mean, yes, I wanted to find the mysterious time-traveler and I wanted to know why Joe's picture was labelled a person of interest, but I also wanted to see what would happen if I asked Joe to stick this paperclip in the hornet's nest. So I did.
The flavortext is so good, I found myself screenshotting scene after scene, and actually giggling aloud over some of Joe's remarks. But the mechanics are interesting too. Joe is able to pop between 1972, present day for our polyester-loving hero, and a desolate future with a mysterious device. Using the point-and-click system, Joe can change the past to change the future. Destroy a poison ivy seedling in 1972, and avoid a poison ivy outbreak in the future.
Throughout the game, Joe shifts between campy, disco 1970s and desolate post-apocalyptic future, and both time periods work. When Joe time-travels, players can see the very same locations, once with  geometric wallpaper, seventies 'staches and other retro style, and then destroyed and abandoned in the future. The Silent Age manages to be hilariously campy, and still full of dramatic tension.
The story ends on a bit of a cliffhanger, with Episode Two in the works, and I can't wait to help Joe save the world.
Originally posted on my personal blog, Simpson's Paradox. Thanks again to the GiN team for sharing my posts!