Michael Blaker
Game Industry News is running the best blog posts from people writing about the game industry. Articles here may originally appear on Michael's blog,
Windborne's Story Eatery
.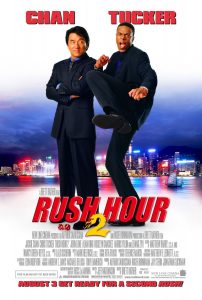 Hey all I'm back with yet another Jackie Chan film for this week's Movie Monday. It's Rush Hour 2!
Plot: This is obviously a continuation of the previous entry. It's not the greatest plot, but it wasn't terrible either.
Casting: The cast this time around is okay, though obvious Chris Tucker and Jackie Chan are the stars of the show still and really take most of the spotlight. Honestly the rest of the characters weren't that great.
Cinematography: There's some very cool Martial Arts scenes as you would expect in a Jackie Chan movie. There aren't that many special effects that occur, so it's only mediocre as far as technique, with nothing really revolutionary.
Music: The musical score fits, but isn't memorable at all.
Overall: As a Buddy Cop movie it does pretty well. Just don't expect more than that.
For those who like: Buddy Cop, Action, Adventure, Drama, Martial Arts, Jackie Chan.
Not for those who don't like: Any of the above, but Jackie Chan is always fun.