Michael Blaker
Game Industry News is running the best blog posts from people writing about the game industry. Articles here may originally appear on Michael's blog,
Windborne's Story Eatery
.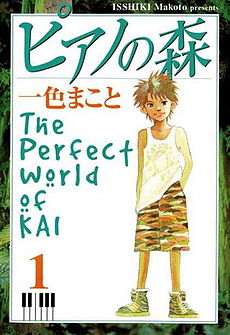 This week for Manga Monday I've got another Quick Review. It's Piano no Mori by Isshiki Makoto!
Plot Synopsis: A tranquil tale about Amamiya Shuhei, who transfers to Moriwaki Elementary filled with hope and ambition about his new life. But it doesn't take long before he gets picked on by the class bullies, and gets involved in a dare to play the mysterious piano in the forest, leading to his meeting an enigmatic child that goes by the name of Ichinose Kai …
Plot: This first chapter's plot is pretty decent. It's nothing spectacular mind, but it isn't terrible either. The series probably gets better considering that it's an award winning series, but I didn't have the time to read past the first chapter.
Characters: Shuhei is a pretty normal character, frankly he's pretty much a side character in this first chapter, with the spotlight being switched to Kai almost immediately upon his appearance. I'm hoping the characters get a bit more mature though as the series progresses, and like I said above given that this is an award winning series it will probably happen. Kai is pretty foul mouthed for a 10 year old kid, but he seems to be have more depth than Shuhei based solely off this chapter.
Art: The art is okay, it's got an old timey feel, but isn't quite as timeless as something from Urasawa like his work on 20th Century Boys. It probably improves over the course of the series, but this first chapter wasn't super impressive.
Overall: I'm giving this a go ahead solely because of the Award Winning tag I saw in the genre descriptions. Hopefully it proves to be a bit more captivating as the series goes on.
For those who like: Music, Slice of Life, School Life, Drama, Interesting Plot, Decent Characters, Good Artwork.
Not for those who don't like: Any of the above.