Meg Stivison
Game Industry News is running the best blog posts from people writing about the game industry. Articles here may originally appear on Meg's blog,
Simpsons Paradox
.
Hello everyone,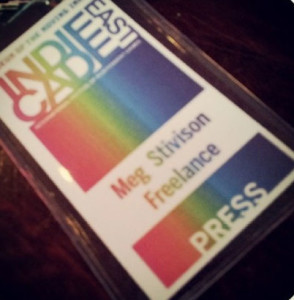 I'm very excited to join the GiN team as a gaming blogger! I play a lot of narrative games and adventure games, although I can also get caught up taking over the world in a good strategy game. I particularly like indie games, because there's a lot of creativity in these projects, and small studios are often more willing to take risks with unusual stories or gameplay mechanics, which leads to some really interesting indie games.
With the rise of the App Store as a distribution platform, and the decline of the traditional games publisher, though, not to mention Kickstarter-funded projects,  I think the definition of "indie" is shifting.  (We could talk about that all day… and I probably will.) I'm interested in what small studios and individuals are creating, especially around unusual narratives.
I also work in game development.  I've contributed to games including Next Island, Gemini Rue, Empire Online, physics puzzler Grumpy Goats, as well as  Shutter Island, based on the Dennis Lehane novel, and Tiger Eye, based on the Marjorie M. Liu novel, and a couple other games still in development.  I've worked as a  content designer, localizer, and QA tester, but my favorite role is working as a writer to create interesting characters for players to meet. Good characters can make the difference between feeling like you're grinding and feeling like you're on an epic adventure.
I blog about playing and developing games, books, traveling, and life at SimpsonsParadox.com I'm really excited to share my gaming posts over here at GiN as well!
–Meg Stivison