Michael Blaker
Game Industry News is running the best blog posts from people writing about the game industry. Articles here may originally appear on Michael's blog,
Windborne's Story Eatery
.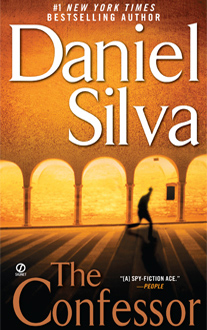 This week for Bookish Wednesday I'm continuing in my coverage of the Gabriel Allon series! It's The Confessor by Daniel Silva!
Plot Synopsis: Gabriel Allon is tasked to investigate the murder of scholar Benjamin Stern in Munich. Meanwhile, the death of Pope John Paul II has led to a conclave at the Vatican.
Plot: This book introduces some of my favorite characters in the series and I really enjoy the look at the life in the Vatican. This is one of my favorite books in the series and it's easily one of the better ones in it. The intrigue and action that goes on in this book is quite good.
Characters: Gabriel is always a favorite character, but we get introduced to some newcomers to the series like Chiara, Pietro Lucchesi, Eli Lavon and Monsignor Donati. Shamron is as always a riot, but I'd say that Eli, Lucchesi and Donati are the favorite newcomers of mine.
Overall: An excellent sequel and one of the better entries. A must read.