As a fan of the Call of Duty series, I am very excited to be attending the ultimate Call of Duty fan experience on September 2 – 4 at the Forum in Inglewood, CA.   The event is Activision's Call of Duty XP 2016 and its shaping up to be an incredible experience to launch the new Call of Duty: Infinite Warfare and Modern Warfare Remastered.
For fans there is plenty to do at Call of Duty XP including being the first to play Infinite Warfare multiplayer and zombies, and Modern Warfare Remastered multiplayer.  In addition, there will be an exclusive PlayStation VR experience for Infinite Warfare.  Another first play is for the new Call of Duty: Black Ops III DLC  released this fall.
The event will feature a live action  experience including Nuketown paintball and zombie laser tag.
Call of Duty XP is also host to the Call of Duty World League (CWL) Championship presented by PlayStation 4. Thirty-two teams from North America, Europe, and Australia/New Zealand  will be playing for the title of world champion and a $2 million prize pool.
The teams in the CWL championships qualified during the stage one and two competitions of the Call of Duty World League and through online tournaments.  Stage one of the  CWL Pro division began in January with teams from North America, Europe, and Australia/New Zealand culminating  with the stage two finals in July.  Following the stage two finals teams were selected for the championship.
The winners of the Stage 2 finals
North America: Team EnVyUs defeated Dream Team (Ground Zero)(2 -1)
Europe: Millenium defeated Team Infused (4-2)
Australia/New Zealand: MindFreak defeated OrbitGG (1-1)
Both the pro teams that did not qualify during the CWL pro division and amateur teams had a chance to qualify during LAN and online tournaments.  During these competitions teams earned  CWL Pro points toward qualification. These qualified teams were then placed into one of eight groups, group A – H.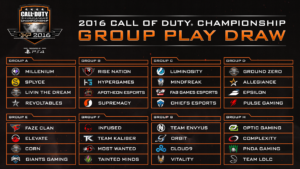 The tournament will commence with the group stage matches beginning Sep 1.  From here the top two teams from the group stage proceed to the double elimination rounds with the final match on Sep 4th.  All matches are best of five.
The 32 Teams Qualified for the Call of Duty World League Championships
North America:
Team EnVyUs (Apathy, Jkap, John, Slasher)
Ground Zero (KiLLA, Sender, Diabolic, Chino)
FaZe Clan (Attach, Clayster, Enable, Zooma)
OpTic Gaming (Crimsix, Formal, Karma, Scump)
Luminosity (Saints, Spacely, Studyy, Nameless)
Rise Nation (Classic, Loony, Octane, Slacked)
Apotheon Esports (Matt, Arcytis, Prestinni, Mayhem)
Cloud9 (Aches, Assault, Ricky, Lacefield)
Corn (Methodz, Blfire, TCM, Twizz)
compLexity Gaming (Havok, LlamaGod, Parasite, Swarley)
Livin the Dream (Accuracy, Ivy, Pacman, Whea7s)
Team Kaliber (ColeChan, Goonjar, Happy, Theory)
Most Wanted (Hate, Spoof, Beehzy, JuJu)
Team Allegiance (Mochilla, Royalty, Remy, Xotic)
Pnda Gaming (Nelson, Priest, FA5TBALLA, TuQuick)
Team eLevate (Faccento, Felony, Nagafen, Aqua)
Europe:
Millenium (Swanny, Tommey, Jurd, MadCat)
Splyce (Bance, Joee, Joshh, Rated)
Revoltables (Ryan, KraQz, LouiCM, Revolt)
Giants Gaming (Legend, MethodZ, Tojor, Sammy)
Hypergames (Braaain, Nolson, QwiKeR, Zed)
Supremacy (Malls, Maxxie, Vooortex, Zayrox)
Team Infused (MarkyB, Peatie, Urban, Zer0)
Fab Games eSports (Hawqeh, Dqvee, Desire, Vortex)
Vitality (Carbines, Wailers, Momentus)
Epsilon eSports (Moose, Reedy, Skrapz, SunnyB)
PuLse Gaming (Cappeh, GefKid, Realize, Denza)
Team LDLC (Niall, Shane, Watson, Zerg)
Australia/New Zealand:
Mindfreak (BuZZO, Denz, Fighta, Shockz)
OrbitGG (Nimble, Swiftaz0r, bacabec, Zeuss)
Tainted Minds (Excite, Guydra, Killerpie, Eminence)
Chiefs eSports Club (Dean, Hopey, Macka, Rival)
Look for more complete coverage of the Call of Duty World League Championships beginning September 1st here at gameindusty.com and on the official Call of Duty World League eSports site.