Day two of the Call of Duty World League championship saw some surprises and upsets. This day was full of some intense rounds of competition but in the end only the top two from each group can move on to the double-elimination bracket. The bracket matches began September 2nd and end on 3rd culminating in the final on Sunday September 4th.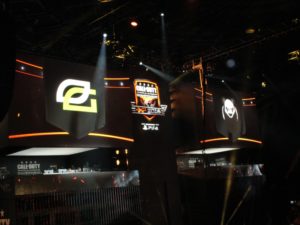 Let's recap some of the exciting matches of the day. OpTic Gaming is a favorite to win the championship. Coming off of a loss against compLexity they started the day with their first match against PNDA. The match started out slow but OpTic soon prevailed leaving PNDA fighting. PNDA had difficulty in the respawning modes but did get a victory in Search and Destroy. Search and Destroy doesn't allow for respawn and PNDA showed there prowess in that round. OpTic Gaming came back in uplink and took the match. OpTic also performed well in Evac hardpoint. PNDA did well in this competition but will need to focus more on events where opponents aren't taken out immediately and come back. OpTic moves on to the bracket and gets one of the two top spots for Group H.
One of the modes that have been a turning point or ended team's pursuit for the top prize in Uplink. Here teamwork is essential as the player that has the drone must be defended by their teammates to get to the uplink station. In this type of competition it's about speed and firepower. Make the most kills but quickly target the enemy and move before they take you out. To master this level requires knowing your strengths and building the right customization, use the specialist that gives the most advantage and choose weapons that as a player you can handle. Teamwork is essential. If your teammates underperform then the team suffers points. Watching the matches I have noticed the amount of thrust jumping, wall running, and sliding players do. For those playing Black Ops III the maps are made for this type of game play with built in lanes and wall runs for players to take advantage of flanking and outmaneuvering their opponents.
What I thought was a big upset was the elimination of Mindfreak in the match against FAB Games. On Day two Mindfreak started out under performing and ended in a 3-0 loss to FAB games following Uplink. Mindfreak was making just simple mistakes throughout the match where they fell behind in points. Teamwork was just not there in the match. FAB games goes on to the bracket round and top spot for Group C. Luminosity took the match in uplink against Chiefs eSports club. Chiefs did a great job and stunning performance in the World League but Luminosity moves on as the stronger team to the brackets.
In the Allegiance vs Epsilon match Epsilon came in as a fast team but was dominated by Allegiance in Evac hardpoint. In these matches players do take advantage of kill steaks as they assist teams by offering extras such as drones and this is what was happening in Evac. Another thing is these players are good at steady aim, which is seen more in higher ranked teams such as OpTic. From the Epsilon and Allegiance match the players that where the ones to look out for were Epsilon's Skrapz and Allegiance's Mochila. Skrapz was the lone wolf player but was leading the team in rounds and took the top kills in the final round. He focused on distant gunning. Mochila was a player the match focused a lot on, he tended to focus on stealth, sniping, and speed attacks. He also took round kills surprising the Epsilon team especially in Uplink. Royalty lead allegiance to victory and was another speed player. Allegiance takes the round and will join Epsilon in the Brackets.
Those were highlights from the games I caught live from the matches. Intense play, excitement and gearing up for the bracket rounds.
Here are the final group stage scores from Day 2:
HyperGames vs. Apotheon Esports (3-0)
OpTic Gaming vs. PNDA (3-1)
Millenium vs. Black Forest (3-0)
Rise Nation vs. Supremacy (3-0)
Allegiance vs. Epsilon eSports (3-0)
Mindfreak vs. FAB Games (0-3)
Renegades vs. PuLse Gaming (0-3)
Luminosity Gaming vs. Chiefs eSports Club (3-0)
Team Infused vs. Tainted Minds (3-2)
Team EnVyUs vs. OrbitGG (3-0)
Team Kaliber vs. Lethal Gaming (3-0)
Splyce vs. eUnited (3-0)
Most Wanted vs. Giants Gaming (3-2)
OpTic Gaming vs. Team LDLC(3-0)
FaZe Clan vs. Team eLevate(3-0)
compLexity Gaming vs. PNDA (3-1)
Team EnVyUs vs. Vitality (3-1)
OrbitGG vs. Cloud9 (1-3)
Group Leaders following group stage:
Group A – Millenium and Splyce
Group B – Rise Nation and Hypergames
Group C – Luminosity Gaming and FAB Games
Group D – Allegiance and Epsilon
Group E – FaZe and Team eLevate
Group F – Team Infused and Team Kaliber
Group G – Team EnVyUs and Cloud9
Group H – OpTic Gaming and complexity
This ends the group stage, stay tuned for coverage of the Bracket rounds. Will OpTic take the prize or will another team like Epsilon, FAB, FaZe, Allegiance, or EnVyUs prevail. All these teams have a chance to take the top prize and be named World Champions of Call of Duty Black Ops III.