As anyone who reads my column knows, I complain about sports games a lot. Not because I hate them, just disappointed in what they have become. I am not going to recount the dumpster fire that was my experience with NBA 2K21, but this covers another recent experience I had with Madden.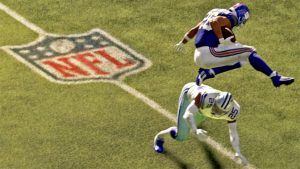 I picked up Madden 2018 for a few dollars from a local second hand store so I could play superstar mode like I used to. I had not had a Madden game since 2009 and back then you could create a player and play as your own superstar who was drafted. You played your entire career from your point of view and could not pick plays. I loved this because I felt more in the game and it allowed a fresh style in a stagnant game.
When I booted up Madden 18, I found out that Superstar mode was not a mode anymore. Madden has instead gone all in on the ultimate team concept. Madden Ultimate Team is a Frankenstein's monster of loot boxes, forced online multiplayer and forcing players to grind up in game currency. This allows the players to build a fantasy team of their favorite players to use online, with the condition you have to pull them in a pack or buy them at the "auction house".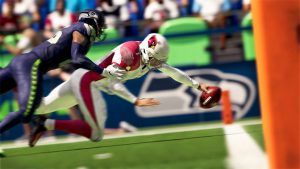 Madden has slowly been divesting from solo player innovation and instead pumped their resources into Ultimate Team. Long gone are the days where they try to give the solo players a more in depth gaming experience. Instead it is just putting in more signs to the micropayment shop. Now the owner and coach modes are practically the same and the game just feels hollow.
NFL games used to be innovative as evidenced by the short lived ESPN NFL games for the PS2 and Xbox. While not the best games, they at least tried to innovate and keep the genre fresh. They allowed the player to play in the first person to increase the challenge and attempt to add realism. The next year they created the VIP system which tracked your play calls and built a profile of your playstyle.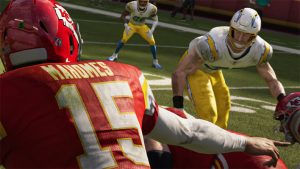 This VIP system was interesting because it allowed you to play against your friends if they were not online. As long as you had an updated VIP profile downloaded, the game's computer would play almost like them. This was in addition to the celebrities who had profiles and it was a list of celebrities that harkened back to mid-2000's MTV. While the VIP system and first person camera was a little gimmicky, at least they were trying.
There used to be an NFL Head Coach game.
I'm dead serious, look at it.
I love this concept in a game. Were these games good… no, they were a nightmare to deal with on the console. But, these could work as Soccer Manager by Sega is going strong and is really popular. I love playing soccer manager games because it forces me to go into the nitty gritty details and learning tactics. Not just looking at overall numbers and hitting simulates. These games were trying to reach a different audience, but they at least tried something different.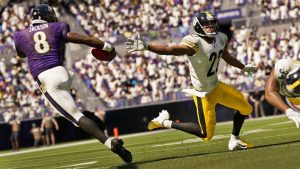 At this rate, by the time we hit 2025 or so, we probably won't have any single player offline play. It will just be Ultimate Team and the options menu. I just hate how sports games have sacrificed themselves on the altar of online multiplayer just like every other major title. Just once I want a game that caters to those of us who want to play a game to relax and not have to deal with the public.
As a long time player I must say that I hate playing online because I have yet to have a good experience with someone who was not a real world friend. Call of Duty, while a stereotype, is a great example of this. Halo was another great example of the random sewage that would leak in. I just want to play a Madden football game, with a guy from West Virginia University, like they did BACK IN 2009. I feel like this is not too much of a request for the all powerful EA. As always, readers, I would love to hear what you think in the comments.