A week or so ago a game called Hair Nah popped into my Twitter feed with the message 'So I made a game cause I got tired of women putting their hands in my hair'.  The game and the tweet went viral and so did the message that black women experience this everyday. This is one of the best examples of a new breed of positive games, which focus on delivering a social message or idea.
Designed by artist, Mobo Pixel, Hair Nah is an 80s style 8-bit arcade game that's free to play in your browser. The  characters are all black women, but you can customise the hair style and texture and the tone of skin from light to dark . There are different locations to choose from, including Osaka and Havana, as the main character takes a trip, but has to navigate a world of white arms grasping for her hair.
The aim of the game is to swat the white hands away, as the women exclaim things like "ooh, can I touch it?" and "Is it attached to your head?". All these phrases will be familiar to black women, who have to fend off  these types of reactions to their hair all the time.
Speaking to On She Goes, Momo Pixel said, "I'm hoping to push the conversation further. Because I don't know how many times Black people can keep telling folks to stop touching our hair and in how many different mediums before they get it. There are countless videos, hella memes, Solange made a song, now there is this game. So if folks don't get it, it's because they don't want to."
Hair Nah is a micro-game tackling micro-aggressions in a fun, light-hearted way. The message is; don't touch a black person's hair, no matter how much you want to. You don't have a right to our personal space or bodies.  Play Hair Nah.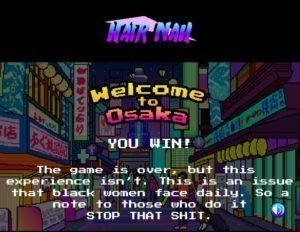 I recently reviewed A Mortician's Tale, which is another game taking a serious topic and wrapping it in an engaging player experience. This short, beautiful indie game describes itself as death positive.  Playing as a mortician who works in a funeral home, the player has to clean and prep the bodies for their funeral service.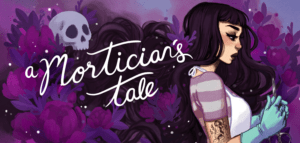 As the game goes on, you learn about different aspects of funerals, from cultural traditions to the business behind the funeral industry. At times, the business side of things conflicts with families' wishes, as the funeral home bosses put profit above caring.
Developer, Laundry Bear was inspired by the death-positive movement, which examines the modern death industry and the West's detachment from and often fear of death. It highlights the fact that some of the processes are bad for the environment. In addition, families no longer take care of their dead, but farm them out to a business,  which operates for profit.
It's a short, impactful game and another example of how games can tackle sensitive issues in insightful ways.  It's a game that's worth playing.
"Leave politics out of games" – that's a cry you often hear from that particular brand of social media games commentator. Founded by Rosa Carbo-Mascarell and James Moulding, Games for the Many, does exactly the opposite, declaring itself as a political games studio. The not-for-profit studio's first game was 'Corbyn Run', created for the 2017 General Election to support the Labour election campaign.
The game features Labour leader, Jeremy Corbyn, who has to avoid attacks from other political figures, including Foreign Secretary, Boris Johnson and the ghost of Margaret Thatcher. The light-hearted gameplay has a serious aim though and reached over 2 million people during the election.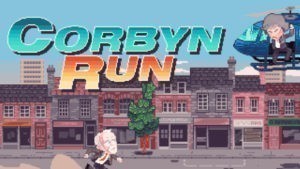 Rosa Carbo-Mascarell,  says, "We made CorbynRun to inform people about Labour's manifesto pledges – rather than reading a document, people could play the game and get the gist of what Labour is about."
Games like Papers Please have also tackled political ideas to much critical acclaim, but for the most part, games avoid being overtly political. AAA titles like Call of Duty WWII, taking on the Holocaust, and Detroit: Become Human, which tackles slavery, use these situations as dramatic backdrops for their entertainment without really saying much about the politics. David Cage has even tried to distance himself from the obvious slavery themes in Detroit: Become Human.
In contrast, it's refreshing to see indie studios and not-for-profit collectives like Games for the Many grapple with difficult issues and exploit the accessibility of games to deliver inspiring messages to more people.
Carbo-Mascarell continues, "We started Games for the Many in order to find ways to inspire political thought through play.  Games are for everyone and there are a lot of positive voices in politics we are not hearing because of a lack of digital skills.
"Over the course of the next few months we are holding game jams with campaigners as well as game developers to help solve that. Our first one is this weekend in London and we are planning a few more early next year in Bristol, Manchester and Newcastle."
Find out more about Games for the Many here. And play Corbyn Run on your phone.