The Call Of Duty: World War II world league wrapped up in Columbus, Ohio last week with Evil Geniuses winning over half a million dollars. Like any major tournaments, there were surprises and upsets. Most notable from pool play was Team OpTic not making it to the bracket stage after being knocked off by eventual champions EG. Here are a few stories to know and a brief recap of the events over the weekend.
Evil Geniuses pull off the improbable:
Going into the tournament there was very few people who expected EG to be legitimate contenders. Their first matchup was against Team Vitality and many looked at the matchup as more of a litmus test for EG's abilities and to gauge if knocking OpTic out was a fluke. EG's decided to make a statement with a 3-0 sweep of Team Vitality followed by another 3-0 sweep of Lightning Pandas.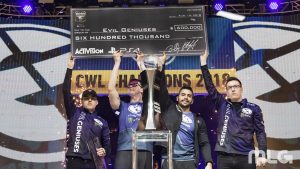 "Coming into today we had a lot of momentum. We were ready for Vitality, we went over their film and knew what they were going to go for search and destroy. Getting that 3-0 felt amazing." Justin "siLLY" Fargo-Palmer said after the match with vitality. "Their search and destroy is good, but their respawns are lacking and they let our map through which was a big mistake on their part."
The first main test for EG came from Team EnVyUs who took a 2-0 lead in a best of five series. The Geniuses dug deep, regrouped and won three straight matches to perform a reverse sweep. From there they beat Team Kaliber in the semifinals, only to face them a second time in the finals.
"Congratulations to Evil Geniuses on capturing the ultimate goal in Call of Duty esports, the CWL Championship," said Rob Kostich, executive vice president and general manager, Call of Duty. "This was an incredible season for the CWL – a huge thanks to our community of players and fans. From start to finish, the matches were amazing with some of the best gameplay we've ever seen in the CWL leading up to last night, and throughout it all, viewership was stronger than ever, which reflects the passion and engagement of fans worldwide."
Rise Nation falters on the first night:
Entering the tournament, three time winners Rise Nation were heavily favored to take it all. The first match pitted them against eventual finalist Team Kaliber. Kaliber took the series by a scoreline of 3-1, despite Rise Nation setting a record during the series for most kills in a match. In case you are wondering, the match when the record was set in ended in defeat.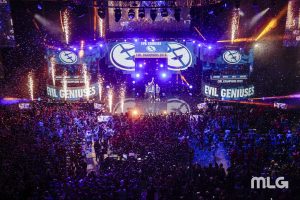 "(The win) feels great. Coming into this weekend we knew they were our biggest competition. It feels good to play them and get a victory." Lamar "Accuracy" Abedi said post-match. "We know if we play our game and play it correctly, practice correctly… we both play the game perfectly in my opinion and it just comes down to who wins the gunfights."
Being down is not unfamiliar to Rise Nation. Their last two major tournament wins have come from the losers bracket. In the final match of the night was against Luminosity Gaming. Rise took an early 2-0 lead and everyone assumed it was game set and match. Only, it was not meant to be. Luminosity, lead by Johnathon "John" Perez  performed a reverse sweep. The final match John took it upon himself and his sniper rifle to end Rise's streak of championship wins.
"The team is really happy we knew if we won this one we would start our losers bracket run on a high note. We have a lot of teams ahead of us… we are really confident right now." Luminosity Gaming's Josiah "Slacked" Berry said after the match. "I am so unbelievably confident in (John) sniping. We have practiced so many strategies to get him to open up the map for us."