I'm back with another Graphic Audio review and this time it's a brand new book for me! It's time to enter the forbidding night with The Demon Cycle Book 01: The Warded Man, by Peter V. Brett!
Plot Synopsis: Mankind has ceded the night to the corelings, demons that rise up out of the ground each day at dusk, killing and destroying at will until dawn, when the sun banishes them back to the Core. As darkness falls, the world's few surviving humans hide behind magical wards, praying the magic can see them through another night. As years pass, the distances between each tiny village seem longer and longer. It seems nothing can harm the corelings, or bring humanity back together.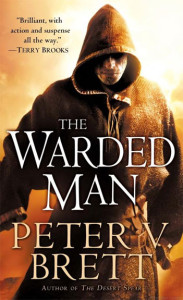 Plot: This is another dark book, something that is emphasized even more with the sound effects, and while I don't mind the dark plot it may turn others off. That being said, the plot is very, very good and quite the thrilling ride.
Characters: Arlen, Rojer and Leesha are great main characters and their experiences weave an amazing story that culminates into a masterpiece work of prose and plot. The rest of the cast are all great, but Rojer is probably my favorite out of all the characters.
Voicework: The voicework is amazing, and does justice to all the characters including the wandering minstrels and their songs, which makes me hope that Graphic Audio is going to make their own audiobooks of The Kingkiller Chronicle which is a series heavily influenced by music. Like last time the cast of voice actors is just too big to place each person to a single character, but they were all very, very good.
Sound Effects: Like I mentioned above Graphic Audio did an amazing job with this book, especially when it came to the musical characters and their songs and music. I enjoyed that probably most of all as it was incredibly well done.
Overall: It may be a little pricey, but it lives true to Graphic Audio's motto of a Movie for your Mind. This is well worth the money if you have it, as Graphic Audio is the ideal way of experiencing this book.