Konami Digital Entertainment, Inc. is bringing its award-winning Pro Evolution Soccer (PES) series from console to mobile with the arrival of the all-new, free-to-play PES 2017 -PRO EVOLUTION SOCCER-. Known for its stunning level of control and incredible aesthetic detail, PES 2017 mobile extends the franchise to mobile gamers, while adding a natural control system that makes perfect use of the touch-screen capabilities of iOS and Android devices.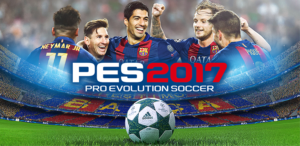 PES 2017 mobile will feature the same game engine used in the original PES console series, but optimized for mobile devices to allow players to experience the thrilling, realistic soccer experience on-the-go. Additionally, PES 2017 mobile will be a fully featured soccer title, showcasing all partnered licences – including FC Barcelona, Liverpool and Borussia Dortmund, plus exclusive use of the UEFA Champions League competition – as well as familiar content from the PES series. Season-long campaigns, online and local matches against rival players, managerial elements, and training and practice options are all featured in the mobile game, while scouts and agents across the globe can be used to build a world-class squad.
In PES 2017 mobile, players can:
• Experience the excitement of a realistic match! The new mobile title embraces PES 2017's iconic gameplay with realistic movements, complex tactical settings, and captivating vocal commentaries. Relish in the authentic sensation of successfully passing, scoring a goal, and the rising tension of a match anytime, anywhere!
• Master gameplay and movement through optimized controls. Known for its real-to-life gameplay and movements, the PES series has been recreated for mobile, allowing players to deliver passes and shoots with simple yet intuitive controls like tapping and flicking, as well as develop advance techniques such as faint, one-two and through passes. Fans of the original console version can also enjoy the Classic Controls on the virtual pad.
• Engage in realistic abilities and characteristics of real-life athletes from partner clubs and leagues across the globe, including favourites such as Messi, Neymar, Suárez, Iniesta and Piqué.
• Build an all-star team by using special scouts and agents, and train skills to master essential moves and progress to advanced tricks.
• Play PES on-the-go! Compete against opponents from all over the world in Online Match, including friends on Local Match and experience the complete PES excitement!
Beginning today, KONAMI also kicks off a pre-registration campaign that offers users deluxe in-game items. For a limited time only, users have the opportunity to obtain a super rare, minimum silver status special agent for FC Barcelona, Borussia Dortmund and/or Liverpool FC by pre-registering at: (for iOS) https://www.konami.com/wepes/mobile/pre/ or
(for Android) https://play.google.com/store/apps/details?id=jp.konami.pesam