The teaching of science, technology, engineering and mathematics, commonly referred to as the STEM disciplines, are an increasingly important part of education for today's young people. Yet, it's also an area where many countries, including developed ones like the United States, are falling behind. Not only does this mean that interesting and profitable careers are being closed off to today's young people, but countries that don't have enough doctors, scientists and engineers face extreme disadvantages on the world stage.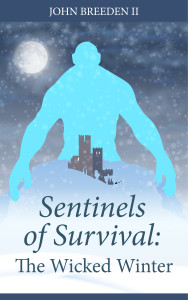 To support STEM education and motivate young people, GiN Chief Editor John Breeden has created a young adult fantasy novel series with the goal of making science cool once again. Called the Sentinels of Survival series, the books weave fantastic tales of worlds filled with sinister creatures, horrifying monsters and dangerous magic. Yet despite the potent magical overtones, the heroes of the realm are young people who have chosen to pursue science as engineers, doctors and other STEM-related professions. Their choices make them outcasts within their magical world, yet they are uniquely qualified to save their homeland from its greatest threat.
"I love young adult fantasy novels with their ability to inspire readers and gain legions of adoring fans," said Sentinels author and GiN Chief Editor John Breeden. "But ultimately, kids can't grow up to become wizards or dragon-riders in real life. What I want to do with the Sentinels series is to marry young adult fantasy with STEM encouragement so that young people are inspired to pursue scientific careers which can be just as fascinating as wizardry."
The first novel in the series, Sentinels of Survival: The Wicked Winter, takes place at a lonely outpost high up in the frostbitten mountains where the bitter cold and biting winds are the greatest threat to the hardscrabble populace of Castle Kryvic. It's the only place the science-loving heroes can find work within a world that depends on magic. However, when magic is suddenly suppressed by an insidious plague and the castle comes under attack by an army of monsters supported by clever scientific gadgets, it's up to the heroes to figure out what is really happening, and work to save their frosty home.
Sentinels of Survival: The Wicked Winter is currently part of the Amazon Kindle Scout contest. Should it get enough backing over the next month, Amazon will agree to publish the book in eBook format under the new Scout label. Everyone who backs the book now will receive a free copy once it publishes.
Sentinels is part of a five book series, with each novel set in a different environment, focusing on new challenges and concentrating on a different aspect of STEM education. Book two, Sentinels of Survival: Journey Into The Secret City has our heroes building a steam engine-powered vehicle to explore the arctic regions of their world. Book three, Sentinels of Survival: Sailors of the Silver Sea is packed with maritime adventure as the heroes tinker with gunpowder and cannon technology to try and stay one step ahead of bloodthirsty pirates.
About the Author: John Breeden II has been working as a journalist and writer for over 20 years, most recently as the CEO of the Tech Writers Bureau. He also reviews complex enterprise software for publications like Network World and is the weekly technology columnist for NextGov magazine. He founded Gameindustry.com, a trade magazine focused on the video games sector.