Hey there, and welcome one and all to the latest issue of the Modern Gamer reviews! It's been hotter than Hades this past week and I am so happy for whoever invented AC. Seriously the heat index over here has been 106! No lie! So to keep cool and relax I tried out the game "We Should Talk." I had to laugh, because apparently I'm a perfect candidate for this genre of game on Facebook.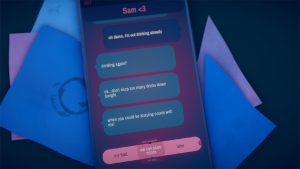 But OMG, I had no idea what I was getting into. First off you are at the bar talking to the bartender. You are a female I think, and you used to date people in the bar. You sit there and have to listen to your girlfriend while you're talking to people at the bar. Really, it's situational drama. You of course choose your own path with three different mix and match dialogs. If you're into Kim Kardashian and love dating dramas, this is for you.
I'm going, to be honest, I'm the type of person who is not into games like personally. I'm at that part of my life where I don't do drama. I don't play games with people. This can be the most frustrating game on the face of the planet for someone like me, though it serves a purpose. You can play through your best or worst impulses and see the outcome.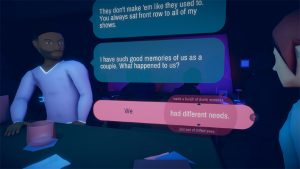 Not going to lie though, it does suck you into its atmosphere. I mean really this game is so realistic in dialogue it's kind of scary. And it does prompt you for reactions, so I think this game is pretty revolutionary for me to take it personally. You can get involved pretty easily. It's almost kind of funny how easily you will find yourself pulled into this alcohol-fueled melodrama.
You're at the bar almost every night. Apparently you have a girlfriend at home living with you. Things seem to be rocky or you're not taking your relationship seriously enough. There are some red flags that the girlfriend reminds you of every now and again. Like she's trying to control you almost. But I think it's kinda normal if you have a live-in significant other. ( That's my opinion) You can play your character as really abusive or you can be supportive, or you can be manipulative. Unfortunately, the game and its endings seem it's geared to for players to be able to do things without real-life consequences.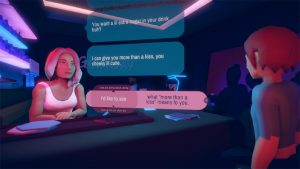 So without getting into the emotions of the game, playing We Should Talk is pretty nice. You have three different ways you can talk your girlfriend and other people. The atmosphere is typical of a bar, and sounds pretty nice. The graphics are kind of blocky, but they work. There are nine endings, and you can do a complete playthrough in about 30 minutes or less.
We Should Talk was not my cup of tea, but I can see the appeal to a lot of people. If you are looking for a dramatic dating sim, then this is the game for you. It will definitely keep your summer sizzling! Modern Gamer out!
Curious to know what the Modern Gamer does in her spare time? Check out the woodlingsart.com and linktr.ee/deleras