Developer VooFoo Studios has come to be known for their series of Pure-branded simulations. Several of those in the series have been nominated for Gameindustry.com Game of the Year awards in the simulation category. And one, Pure Chess, won just last year. The Pure games are known for their hyper-realistic graphics and beautiful, almost surreal environments that take a known sport or game and present it in a computer simulation. Pure Hold'em does this for Poker, taking one of the most popular flavors of the game, Hold'em or Texas Hold'em, to the PC, Xbox One and PlayStation 4 platforms.
Hold'em Poker is a bit different from Chess or Pool in a lot of ways, and thus Pure Hold'em is different from other games in the Pure series. The biggest thing is that while Pool and Chess are one on one affairs, there can be a lot of people competing in a single game of Poker. Pure Hold'em represents an eight player game with the extra opponents taken up by either artificial intelligence or real people. Most of this review will center on the single-player experience.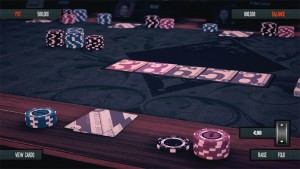 To start off with, the environments are gorgeous as one might expect from the Pure series. Pure Hold'em is a bit more like the Pure Pool game in that the backgrounds are more or less limited to casinos (with Pool is was mostly bars). So there are no parks or futuristic marble-lined apartments or anything like we found with Chess. Mostly the background view is slightly blurred and out of focus so as not to take away from the poker game itself, but it's easy to tell what rows of slot machines look like. Having been lucky enough to have been in Las Vegas many times, I can say that they nailed the backgrounds perfectly. With just a little bit of imagination, you can easily pretend that you're inside a real casino.
The focus of the graphics of course are the cards and chips, and here the developers have done a fantastic job, right down to the fine lines of the plastic cards that make them look real. You press one button to take a peek at your two hidden cards, and they realistically slide up to give you a great view. I won't wax poetic too much on how accurate the card-sliding physics are, but they are quite nice. The chips too look really good and it's easy at a glance to see how many, and in what denominations, you and your opponents have left.
There are the standard-looking Hoyle cards that everyone knows by heart of course, but VooFoo has also added two other really fancy decks including one that is set in all black with gilded trim and another that uses kind of funky colors and a very modern look reminiscent of a deck of Uno cards. Some of the cards sets have the disadvantage of being a little bit difficult to read with a quick glance as nobody expects to see an all-black deck or green coloring representing clubs for example. You can set which decks you want to see when you play in the options screen, so if you don't like one you never have to play with it in single player games. You can also have it set to randomly pull one for each game.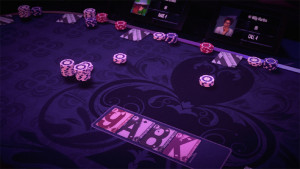 The sound too is really nice. There are the casino sounds for the background music. If you have ever been to a casino, there is a certain set of sounds that the slot machines make that are called "the sound of money" by those who design them and they are present to help set the mood. You also apparently have a crowd watching you play which will cheer when someone goes all-in and make other reactions that help set the atmosphere without being distracting.
Surprisingly, there is also a huge selection of background music with everything from jazz to electronic to hip-hop. As with the cards, you can dial in one type of music and exclude everything else, or have the game randomly choose one type each time you enter a game. Personally, I think the jazzier soundtracks are good for poker playing, but I enjoy all of the genres offered and leave it on random.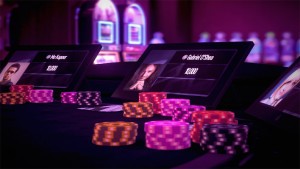 In the single player game, there are six tables of increasing skill level. At all of the higher level tables, you need to buy into games using a finite number of credits that are assigned to your account. You won't be able to play the highest difficulty levels at first because you won't have enough credits for the buy-in. And if you lose too much at the higher-level tables, your credits will drain to the point that can't get back in until you've upped your stake once more.
However, the lowest level table, called the joker's table, is free to play and you actually earn credits for good play as opposed to for winning hands. For example, you get a few credits for folding a hand when faced with a losing deal, some credits for building up a pair or a straight, and even a few for simply playing a hand. This is more or less a tutorial table to teach you good poker skills since the actual in-game money does not really matter that much, only good play which adds to your score of credits.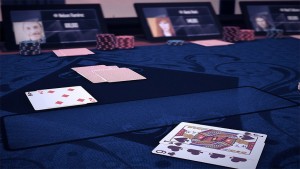 Some people may have mixed feelings about the whole credit system which can introduce real money into the game, because of course the developers have made it so that you can buy more credits for real money. I suppose there is nothing wrong with letting people buy their way into the higher tables if they want, especially since you can get there by skill too, just not as quickly as plunking down real money. Still, it's bound to be a bit of a controversial move, perhaps made somewhat less given that the subject of the game revolves around gambling, much more so than Chess or even Pool. Also, a daily game where you play high and low cards (just like that old TV game show) can let you rack up thousands of credits alone, so a little bit of patience will probably prevent most players from having to reach for real money.
In terms of gameplay, as a poker player myself, it's a bit difficult to score Pure Hold'em. The game is technically accurate and AI opponents act appropriately given their situation. But being skilled in knowing the hands available and the percentages involved in how much better your hands are likely to be than your opponents is only one part of the real game. This, Pure Hold'em does well. But the other part of the game, and some would argue the real skill behind the best poker players, is reading your opponents. Pure Hold'em makes absolutely no effort in this area.
Computer opponents are represented by static pictures that pop up on the other side of the table. They don't move, don't talk, and don't make any effort to communicate in anyway. There is no way to get a read on whether or not they are bluffing, or whether or not you can bluff them. You might as well be playing with empty chairs. Given VooFoo's reputation of amazing graphics, I was hoping that the opponents would be rendered somehow, perhaps with little tells that you could occasionally read, or annoying banter that could help you to better understand their personalities and strategies. All of that happens at real poker tables as the actual game is as much about feeling out your opponents as it is knowing how often a full house with kings high takes the pot. With chips just floating around the table in Pure Hold'em and moving around those pictures, the whole thing might feel a bit antiseptic, or like something out of an episode of Dr. Who.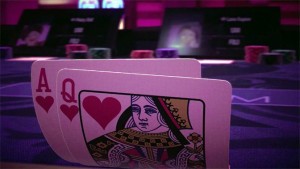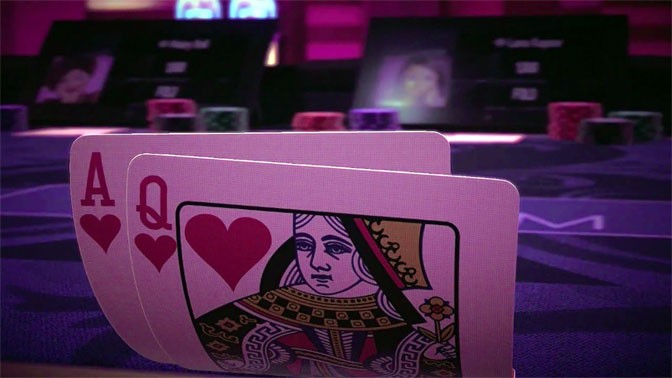 I'm still giving Pure Hold'em a high gameplay score of 4 out of 5, because for the part of the game they choose to simulate, the pure numbers and percentages part, they did an amazing job. Just don't get really good at Pure Hold'em and then expect to clean up at the local casino's poker room. If you do, you will likely learn a very hard lesson about that second part of the game.
Pure Hold'em is one of the most gorgeous poker titles to ever be made. Playing is effortless on the PC or the console, and multiplayer matches were very easy to find on all platforms due the popularity of the game. You can have a lot of fun with Pure Hold'em while learning the fundamentals of poker, or improving your skills if you already dabble in it. And the excitement at winning a large pot, even a simulated one, is both rare and not to be missed. Available for a price that is half what most AAA console titles sell for these days, it's a safe bet that gamblers of all skill levels can have a good time at Pure Hold'em's beautiful virtual tables for a very low buy-in.