I'm back with another entry in the excellent Liam Mulligan series! It's time to dance to the Providence Rag by Bruce DeSilva, Book 03 of the Liam Mulligan Series!
Plot Synopsis: Mulligan knows every street and alley, every priest and prostitute, every cop and street thug. He knows the mobsters and politicians – who are pretty much one and the same. Inspired by a true story, Providence Rag finds Mulligan, his pal Mason, and the newspaper they both work for at an ethical crossroad.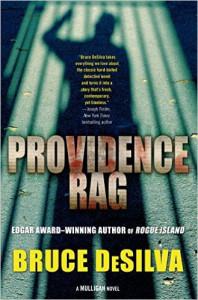 Plot: This plot is considerably darker than past books, and while it's a nice change of pace it is also pretty depressing. That isn't to say it's a bad plot, it's amazing. That being said this is one of those books that children shouldn't ever read. I loved it though, and it even includes a nod to Curt Schilling's failed video game development studio 38 Studios. One thing of note is that this book is told in Third Person as it's got multiple character's points of view. I do miss hearing Mulligan's thoughts, but I thought it was well done.
[amazon asin=0765374307&text=Start Reading Providence Rag now from Amazon]
Characters: My favorite new character probably is Larry Bird, who is just hilarious. Whoosh is also present, but not for very long which makes me sad. We do get a bunch of returning characters and my favorite characters haven't changed at all. It's still Whoosh, Mason and Mulligan. Another thing of note that gamer's might appreciate is the fact that there is a character named Gordon Freeman, but he doesn't show up much.
Overall: This is a great entry, but it's a bit different than previous entries in the series.
P.S. Wait this is the third book in a series, and it's got a character named Gordon Freeman! Half-Life 3 Confirmed?