I'm back with another entry in the October Daye series and I'm enjoying it quite a bit! It's time to go stargazing with Late Eclipses by Seanan McGuire!
Plot Synopsis: Two years ago, October "Toby" Daye believed she could leave the world of Faerie behind. She was wrong. Now she finds herself in the service of Duke Sylvester Torquill, sharing an apartment with her Fetch, and maintaining an odd truce with Tybalt, the local King of Cats. It's a delic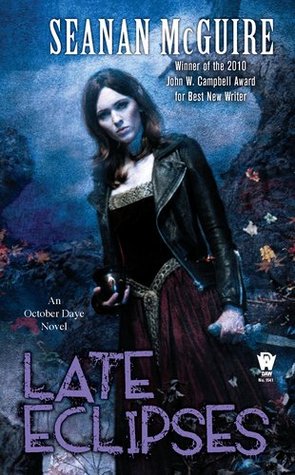 ate balance – one that's shattered when she learns that an old friend is in dire trouble. Lily, Lady of the Tea Gardens.
Plot: Like I mentioned above I really do enjoy this entry, although I'm finding that the mystery part of the series is becoming less and less prevalent. That may put some people off, but personally I don't care as Toby is a joy to listen and experience San Francisco through. I don't have a particularly favorite scene in the book, not like the car chase of the last entry, but since this entire book is one long string of bad events crashing together I didn't mind.
Pick up Late Eclipses from Amazon
Characters: May, Toby's Fetch (read Death Omen that comes to escort their person to whatever is after death), is quite fun and I love how different she is from Toby. Where Toby is guarded and blunt, May is spunky and feisty. She's definitely tied with Tybalt for my favorite character of the series. We also get to see lots of old faces, like the Queen we met in Book 01, which is great. I always love it when author's bring back characters we met in prior books.
Overall: This is a worthy entry and while it's lighter on the mystery, that doesn't matter as the plot is excellent.