Hey all this time I'm back with a book with an adventure from the hit TV series, The Librarians. It's The Librarians and the Lost Lamp by Greg Cox!
Plot Synopsis: For millennia, the Librarians have secretly protected the world by keeping watch over dangerous magical relics. Cataloging and safeguarding everything from Excalibur to Pandora's Box, they stand between humanity and those who would use the relics for evil. Ten years ago, only Flynn Carsen, the last of the Librarians, stood against an ancient criminal organization known as The Forty. Today, Flynn is no longer alone. A new team of inexperienced Librarians, led by Eve Baird, their tough-as-nails Guardian, investigates an uncanny mystery in Las Vegas.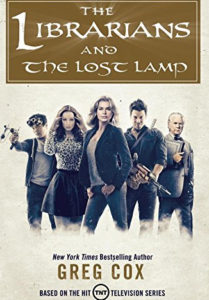 Plot: The plot is very action packed and fast paced and hooked me pretty quickly. I'm saying this as someone who has never watched the TV series before, I don't have television service so I don't get to watch much of it these days. So that fact alone should let you know how gripping the plot is. The plot switches points of view between the past and the present and it's very well done. I wasn't upset at all by the switches as it felt natural and not at all forced.
[amazon asin=0765384086&text=Follow The Librarians amazing and fun action with a copy of The Librarians and the Lost Lamp from Amazon!]
Characters: For those who have watched the TV series I probably don't need to introduce the cast to you, for those who haven't like myself, the cast is pretty stereotypical. That being said it's not a bad cast of characters, they are quite interesting and I have to say I enjoyed Cassie's point of view the most. Flynn's PoVs were also fun, but generally I had a blast reading the entire book.
Overall: For any Urban Fantasy fans and/or fans of the TV series, Lost Lamp will be an excellent read.
For those who like: Urban Fantasy, Mythology, Excellent Plot, Fantastic Cast of Characters.
Not for those who don't like: Any of the above.