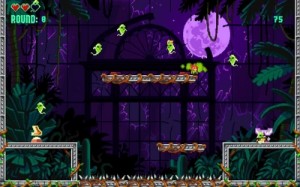 The power of gaming compels you to gather controllers and battle poltergeists as paranormal platformer and action party game Extreme Exorcism takes possession of PlayStation 3, PlayStation 4, Wii U, Xbox One via the ID@Xbox self-publishing program, and PC via Steam on September 24. Developed by indie team Golden Ruby Games and published by Ripstone Publishing, Extreme Exorcism will release for $12.99 / €12.99.
In Extreme Exorcism, players take on the role of Extreme Exorcist Mae Barrons – whose unconventional supernatural skills are called upon when everything and everyone else has failed to rid a haunted house of its ghostly presence. However, these aren't your average poltergeists, as each time a spirit is eliminated, another will mimic Mae's prior movements, weapon fires and dodges. With Extreme Exorcism, players are their own worst enemy and the longer they survive, the more chaotic the game becomes.
To aid in her efforts, Mae's equipped with a lethal arsenal of more than 20 ghost-busting weapons, including swords, guns, grenades, mines, rocket launchers, razor-sharp boomerangs, lightning spells and Kung-Fu moves. She'll need all the firepower she can obtain, as she'll face 50 challenges, a single player story mode and local multiplayer with up-to four players, including both Co-op and Deathmatch modes.