THE XBOX ONE X IS MINE!
24 Hours Later…
(Disclaimer: I can't believe I have to do this, but I know PC fanboys are going to go off on my comparisons. Be it known that I too play on PC. I play games on PC a lot. But the fact is I am going to speak on a very powerful console, and there are those who actually prefer to play on console than PC and are curious to know how it compares. So please, keep the fanboy comments to a minimum. I am not leaving the PC gaming community, nor am I just a "filthy console peasant.")
So….Xbox One X!
Since I first heard the announcements of "Project Scorpio" even before its huge announcement at E3 2016, I never seen the level of hype for a console ever possible. All I heard since I made my decision to originally purchase an Xbox One over the PS4 was about the power differential, how the PS4 was supposedly "50% more powerful" and how games on the PS4 would always be at 1080p opposed to the X1 being either 720p or 900p.
The truth was the original Xbox One had the faster CPU, made slightly faster in the Xbox One S, yet the PS4 had the better GPU. But in this generation's version of the "bit wars," the PS4 clocked in at 1.84 teraflops, in comparison to the Xbox One's 1.31 (going up to 1.4 on the Xbox One S.) So yes, the PS4 is more powerful, but not the 50% that was originally claimed.
Despite the comparison, we still had the PC gamers to contend with and their constantly increasing GPU power. Still, I stayed defiantly anti-PC and criticized them about how much it would cost to build a PC. Eventually I gave in, and bought a gaming PC. More specifically, I bought a gaming laptop with an nVidia GTX960m, a GPU with 1.4 TFLOPS in performance. However with the faster 2.4GHz (boosted to 3.2GHz) the performance was equal to that of a PS4 and I was happy with that. It couldn't do full 1080p gaming at 60 frames per second (which was important to me,) but it was a step in the right direction.
So with the faster PCs out there, both Sony and Microsoft had to respond. I first gave the PS4 Pro a try, but with its 4.2 TFLOPS I wasn't certain at the time if it could be able to handle 4K or not. Sony ended up using a lot of shortcuts to emulate 4K, such as checkerboard rendering. My final tests of the PS4 Pro were mixed. On one side, I was impressed with the visuals of Horizon: Zero Dawn. Despite using checkerboard rendering, I was able to choose between "4K" at 30fps or 1080p at 60fps. I played most of it on the latter which looked good. Then on the other end of the spectrum, was MLB 17: The Show. Surely you would expect a baseball game to play smoothly in 4K, but in this case it didn't. Wait, let me take that back a bit. The gameplay segments were decent in 4K, but when it shown a cutscene, the frame rate took a massive nosedive, and I ended up switching back to 1080p to keep the game smooth. No Man's Sky was the same situation. While it ran decent in 4K, I ended up going back to 1080p to play the game at 60 frames per second.
Over time it got me thinking, if I bought this PS4 Pro to play games in 4K, why can't it do 4K and 60 frames per second? It turned out that 4.2 TFLOPS was not enough to handle it, and over time I made the decision to sell the PS4 Pro, knowing that the Xbox Scorpio, now called the Xbox One X, and its 6 TFLOPS was just around the corner. Sure, it was going to cost me $500, later dropped to about $430 thanks to discounts from Amazon, but I was going to make up some of the cost by selling my Xbox One S.
Check out this screenshot of Titanfall 2 on the Xbox One X in full 4K resolution. You can click on it to see it at full size.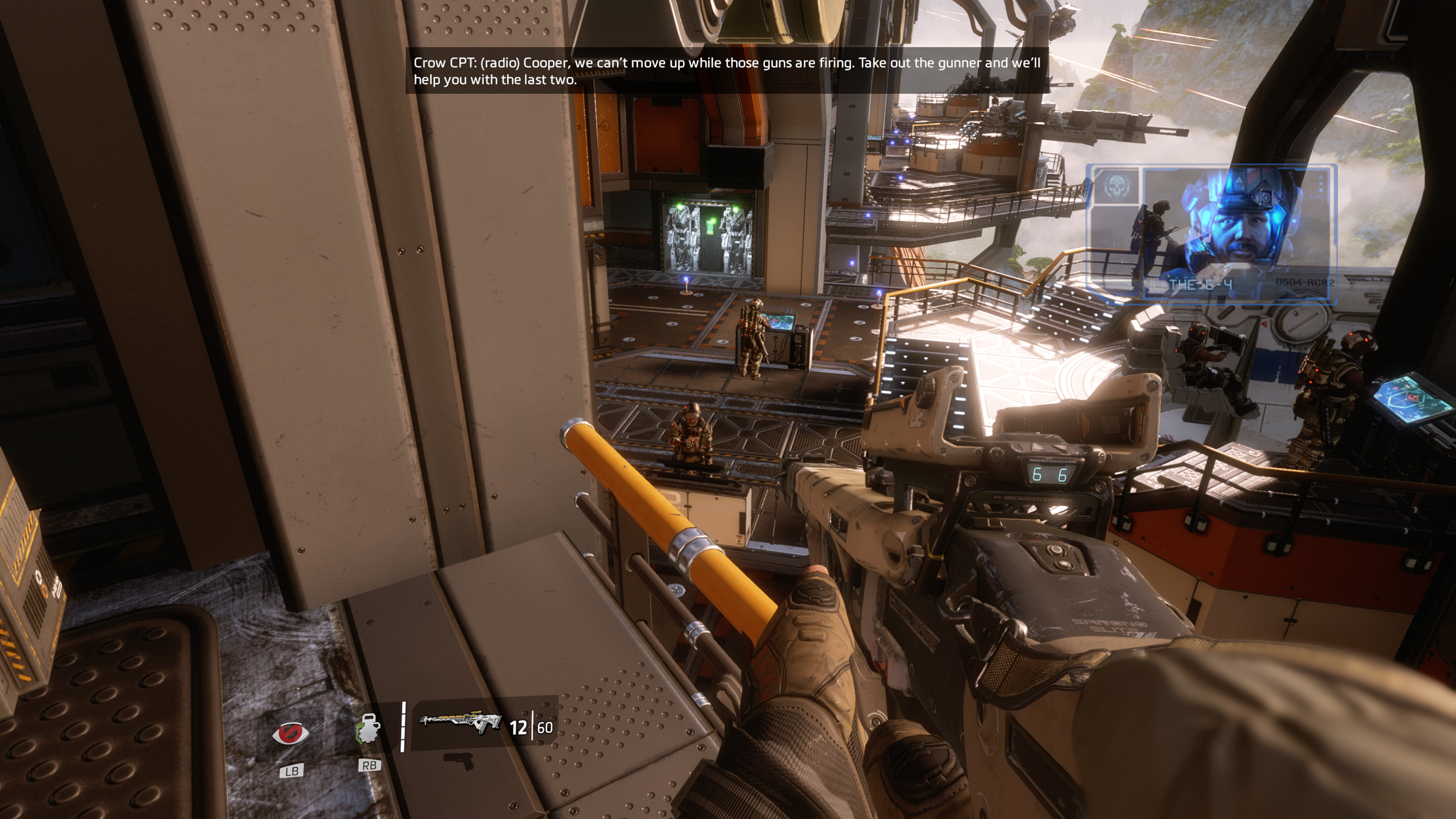 The time is now! Pick up an Xbox One X like Todd from Amazon today!
So I waited, and waited and waited for November 7th to get here, and during that waiting period I started seeing all of these people, both from the PS4 and PC communities make up stories about the Xbox One X and how it would fail, even going as far as saying that you can build a "Scorpio Killer PC" for $500, even though the Scorpio's GPU is equivalent to that of a GTX 1070, a $400 graphics card, and just slightly below the $300 AMD RX 580. That's not including the motherboard, memory, hard drive, power supply, case, 4K UHD Blu-ray drive, and operating system (provided you don't decide to pirate.) Even if you use a controller you might have elsewhere (like I do with my laptop,) you still won't be getting the X experience (Xperience?) with just $500? But that was the start of all the claims. I won't go over all of them myself. My friend Colt Eastwood did a much better job at it in one video:
So I deal with all of this going on, I counted down the days leading up to November 7th, waiting to see how everything would turn out. Then after the UPS truck finally arrived, I received my shiny new Xbox One X, set it up where the S used to be, plugged in my two external hard drives (with my settings and all my games already enhanced. Kudos to Microsoft for making the process much easier than it should have been,) and was ready to go.
The first game I tried out was Wolfenstein II: The New Colossus. I already beat the game on the S, and despite running a near constant 60 frames per second already, the change in detail between the S and the X are night and day. I was shocked at how sharp the jump to 4K resolution was. Granted I did see some glitches in the textures, most notably in the Manhattan Nuclear Bunker where text just popped in after getting closer, I was still in shock at how detailed everything looked.
I'm sure I'm going to hear about the texture pop up from fanboys, but considering that Wolfenstein II is a Bethesda title, I know there will be a patch soon that will fix this. Still, this was just the start of things to come. Over the course of 24 hours, I gave thirteen games a run-through, games that received enhancement patches and those that have not. I will go over each of these tests in my upcoming Xbox One X review, but from what I've seen so far, Microsoft has kept their word on the X being the most powerful console. Whether it was the 4K resolution, smoother frame rates (yes!) and faster load times ( a godsend for games like Tekken 7,) all that you heard is absolutely true.
Expect a full review of the Xbox One X soon, once I get more than the initial 24 hours out of the way with a take on each game that I played. In the meantime, check out more of Colt's videos.
Currently Playing: Too many to count! (Xbox One X)
Waiting For: Future titles to test out the X!