When myFirst Sketch Book arrived for review, I wasn't sure what to expect. It looks like a tablet computer but is a monochrome drawing pad with a digital stylus, and it connects to an app on your iOS or Android phone. I understand the need for a device to hand your children, so they don't want to play on your work tablet or your phone. This is that device, but I'm not sure it's adequate, even though it does exactly what they say it does.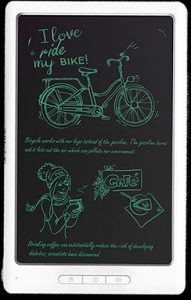 Oaxis products generally have sparse instructions, and the ones for the sketch pad are no exception, however, I highly recommend reading them, because they will inform you of the basic functionality of the pad and there are things like the lock that aren't immediately obvious. The app complicates matters and doesn't have any instruction so far as I can tell. It's a very basic art app though, so if you're familiar with any other art type app or program, you'll be able to suss it out pretty quickly.
The pad itself comes with an on/off button, a save button, and an erase button, which all seems very straight forward, except the pad allows you to draw on it when the unit isn't actually powered on, but you have to turn it on to save or erase what you drew while it was off. A lock button on the side of the unit can be turned on to prevent accidental erasure.
Downloading the app to my phone was a snap and getting the app to recognize the sketch pad and download my images was equally easy. Once on my phone, the monochrome images could be colored or added to, deleted or printed. Essentially, the app is the most fun part of this, because it allows for coloring, but then there's the rub. If you have to hand your phone or tablet to your child to color in the drawing, that kind of defeats the purpose of the sketch book, doesn't it? The image on the sketch book itself is drawn in a light green color and not very bright. Given that most children are familiar with the functionality of an iPad or some other tablet, I think this might be an exercise in frustration, because it looks like it should do more than it does.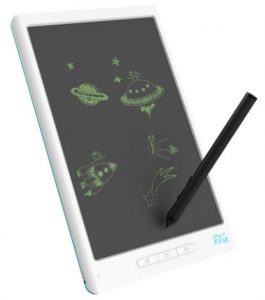 I think this is particularly true given that you have to use the stylus to draw. I think most children are going to expect it to be a touch pad simply because it looks like one. That said, you can draw much more finely and expertly with a stylus, and the stylus provided is a nice one with replaceable tips. Of course, it's only $99, obviously, as adults we wouldn't expect it to function like a much more expensive product, but children don't understand that. As it is, it functions kind of like a more controllable Etch-A-Sketch or a digital Magic Slate. On the other hand, if you have one of those kids who is constantly drawing, this might be perfect because they can save a ton of different drawings and then port them to a tablet at a more convenient time for their parent.
Do you have one of these? Does your kid love it or hate it? Let us know in the comments below.