Walking the halls of DragonCon is often one of the best parts of the convention because DragonCon's strengths as a convention are best exemplified by its members, and they demonstrate their diversity and talents nowhere better than in their cosplay. However, that said, upon occasion, the careful observer may notice a bit of a fandom 'hivemind' develop and certain trends in cosplay become obvious.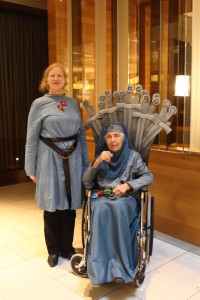 This year, Disney and video game characters won the day. There were beautifully done Skyrim cosplayers and more League of Legends characters than previously noted. There were plenty of World of Warcraft characters wandering the halls of the convention hotels, doubtlessly hoping to run into one of the World of Warcraft voice actors. Dino Andrade seemed to be everywhere, and for the record, he is a very lovely person. On at least one of the nights, he started out at the Darkmoon Faire event, before combing the halls, camera in hand.
In honor of the sixtieth anniversary of the first episode of Lost in Space, at least one intrepid cosplayer constructed Robot B-9, with articulated arms and an audio system.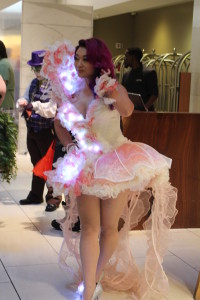 There were also rumors of a parade of Deadpools. If they liked your costume, you were invited to join the swirling mass of red and black. Reports indicate that the parade worked a bit like a conga line in the sense that cosplayers were invited to join and dropped off at destinations of their choice throughout the convention.
Other popular costume choices were more kid-friendly than Deadpool. There were several beautifully done Wizard of Oz cosplay groups, and while Disney princesses are often popular choices, there were more groups of them this year than there have been in years past.
As always, DragonCon cosplays ranged from the meticulously crafted, especially as Yaya Han was in attendance, sporting some incredible LED work on her costumes, to the visually clever. Hipster Link deserves a solid shoutout both for the deceptive simplicity of the costume and the humor inherent in it. Also, the Disgruntled Fairy Godmothers wandered the halls, promising something slightly less glamorous than a night at a ball with a prince. There were also sightings of a 'Ye Olde Baywatch' cosplay group, featuring 1920s era bathing suits, old fashioned floatation devices, and a slow-motion, epically Baywatch run.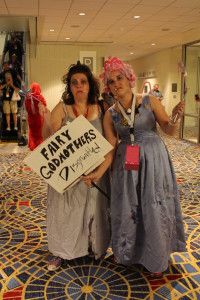 DragonCon also works hard to guarantee accessibility, and members with disabilities are just as geeky as anyone else with a badge. This year, there were lots of costumes that beautifully incorporated assistive devices into costume ideas. Check out the photo of the Iron Throne.
DragonCon members are truly some creative and hilarious folks, but as former guest LeVar Burton would say, you don't have to take my word for it. Come on down one year and see it for yourself.